Presents
String Quartet in D Major, Op.3 No.1
Manuel Canales (1747-1786) was born in the Spanish city of Toledo. He studied music with Jaime Casellas, director of the Toledo Cathedral Choir. He was said to have excelled as a cellist and bassist. Eventually, around 1770, he obtained employment at the court of the Duke of Alba in Madrid. It was in Madrid that he encountered the music of Boccherini and Haydn, both of whom are said to have had some influence on his style. Canales is thought to be the first Spanish composer to have penned string quartets. A notice appearing in the July 12th, 1774 issue of the Gaceta de Madrid had an advertisement for "Six quartets for Two Violins, Viola and Bass by Manuel Canales." They were listed as his Op.1. It is thought that his Op.2 also was a set of six quartets however, whatever they were, they are now lost.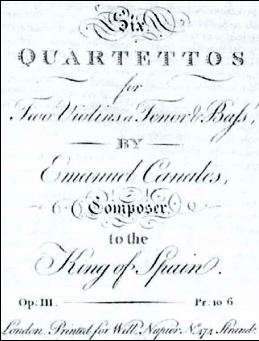 The only other chamber music of his which has survived is his Op.3 string quartets, also a set of six. They were published in London by the firm of William Napier in 1782 bearing the inscription Six Quartettos for Two Violins, Tenor & Bass by Emanuel Canales Composer to the King of Spain. This claim by the composer most likely was made either by Napier or Canales himself in order to attract sales, for there is little if any evidence that Canales was "Composer to the King of Spain." To the contrary, the evidence suggests that after the death of his patron, the Duke of Alba, he returned to Toledo where he worked as an assistant director at the Cathedral and where he subsequently died. If, in fact, Canales had been Composer to the King of Spain, he would have had no problem getting the works published in Madrid as his first set had been by the leading Spanish engraver, Juan Fernando Palomino. But this was when Canales had the powerful Duke of Alba for his patron. In 1782, he was back in Toledo, toiling away without any patron.
The Quartet in D Major is the first of the set of six. Of note is the fact that it is in four movements—–Allegro maestoso, Minuet, Largo assai and Presto. This fact suggests that he had encountered the works of Haydn. Most other composers from this period, with the exception of Mozart and a few other Viennese composers were still using only three movements, the structure of the Mannheim school. Of some note, one can hear the influence of Spanish dance music in the Largo assai.
This is an historically important work and interesting because it is an example of how far the Viennese and Italian tradition had penetrated Spain by the late 18th century. We have created a modern edition complete with rehearsal numbers.
Parts: $19.95