Presents
Robert Fuchs
Piano Trio No.2 in B flat Major, Op.72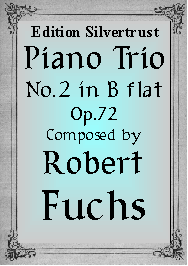 "Robert Fuch's very appealing Piano Trio No.2, published in 1903, shows his continued mastery of form. His earlier works, while clearly retaining their own individuality, often reveal the influence of Brahms. Not so his later works, such as this trio. By the 1890's he had begun to move in a different direction from Brahms. One might say, his goal had become to make more from less. Much as the famous Dutch painter Frans Hals was able to create incredible detail from only a few brush strokes, Fuchs demonstrates an uncanny ability to create very effective tonalities and, when he needs to, richness, with far fewer notes than most of the late Romantics." --from a discussion of Fuchs' Piano Trios by the Editor of The Chamber Music Journal.
Robert Fuchs (1847-1927) was born near the Styrian capital of Graz and attended the University of Vienna Conservatory studying with Otto Dessoff and Joseph Hellmesberger. By 1875, he himself was teaching at the Conservatory, eventually rising to the rank of Professor of Composition. He was one of the most famous and revered teachers of his time. Mahler, Sibelius, Hugo Wolf, Franz Schmidt, Alexander Zemlinsky, Franz Schrecker and Richard Heuberger were among his many students. That his compositions did not become better known was largely due to the fact that he did little to promote them, living a quiet life in Vienna and refusing to arrange concerts, even when the opportunity arose, in other cities. He certainly had his admirers, including many famous conductors such as Arthur Nikisch, Felix Weingartner and Hans Richter, who championed his works when they had the opportunity.
The evocative opening notes the first movement, Allegro molto moderato ma energico, begin with a tinkling tremolo high in the piano before the strings present the winning main theme. After a short development, a more energetic second theme appears. The wonderful second movement, Allegro scherzando, begins in a slightly exotic mode but quickly becomes a more traditionally romantic lyrical melody. But in the trio, the exotic appears this time more prominently. The Andante sostenuto which follows is calm and has for its main theme a very romantic but melancholy melody. The middle section features a pleading theme, which at times becomes quite dramatic. (our sound-bite presents the last part of the first section and the middle section). So often composers use the term giocoso, which should mean jocular, joking, with good humor, but the music in question is none of these things. In the finale here, the Allegro giocoso is all of these things: playful, joking, teasing and most importantly highly appealing. This is gay, happy music, genial without even the shadow of a cloud.
This is a first class piano trio which belongs in the repertoire and on the concert stage. Presenting no great technical challenges, amateurs will revel in such fine music which is so accessible. Out of print for nearly a century, we are pleased to make it available once again
Parts: $29.95