Presents
Robert Fuchs
String Quartet No.3 in C Major, Op.71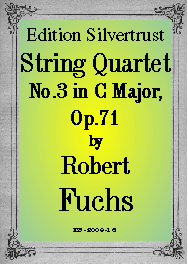 The respected chamber music critic Wilhelm Altmann, writing in Cobbett's Cyclopedic Survey of Chamber music, notes that Robert Fuchs' String Quartet No.3 in C Major deserves special mention. He goes on to say that there is charm and real feeling in the themes, praising the piquant scherzo, the graceful slow movement and the lively finale, which he says "is splendid to play.
Robert Fuchs (1847-1927) was born near the Styrian capital of Graz and attended the University of Vienna Conservatory studying with Otto Dessoff and Joseph Hellmesberger. By 1875, he himself was teaching at the Conservatory, eventually rising to the rank of Professor of Composition. He was one of the most famous and revered teachers of his time. Mahler, Sibelius, Hugo Wolf, Franz Schmidt, Alexander Zemlinsky, Franz Schrecker and Richard Heuberger were among his many students.
The quartet was composed during the last decade of the 19th century and published in 1903. The opening Allegro molto moderato e grazioso, begins in a rather gentle vein, ingratiating and rather lovely. The scherzo, Allegro vivace, is really very original and quite well done, alternating between playfulness and haunting, Fuchs sandwiches an ethereal trio in between. The slow movement, Adagio molto e con sentimento, begins affectionately taking its time. Eventually, the cello takes the lead, bring tension with it, as it moves toward a dramatic climax. The finale, Allegro con brio, begins as a moto perpetuo, suddenly a brief Hungarian episode interrupts and then quickly disappears, though it makes its appears later in an important way.
Published only once and out of print for long periods of time, here is a candidate for the concert hall which is sure to meet with applause. Amateurs will also get great enjoyment for playing it.
Parts: $24.95