Presents
Robert Fuchs
String Quartet No.4 in A Major, Op.106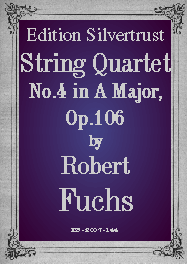 "Robert Fuchs' first three string quartets were all performed during his lifetime to considerable critical acclaim, which alas did not prevent them from unjustly falling into oblivion for they are indeed very worthwhile works deserving a place in the repertoire. His Fourth String Quartet, though composed in 1916, was only published in 1925 shortly before his death. It apparently never received a public performance and it was not until 2000 that it was recorded. Hence, having never really seen the light of day, so to speak, it has remained unknown from the beginning. And this is truly too bad because it not only is perhaps the best of his four string quartets, but also it is unquestionably a masterpiece combining late romantic post-brahmsian musical language with newer trends that contemporary tonal composers were then exploring."
So wrote the editor of The Chamber Music Journal.
Robert Fuchs (1847-1927) was born near the Styrian capital of Graz and attended the University of Vienna Conservatory studying with Otto Dessoff and Joseph Hellmesberger. By 1875, he himself was teaching at the Conservatory, eventually rising to the rank of Professor of Composition. He was one of the most famous and revered teachers of his time. Mahler, Sibelius, Hugo Wolf, Franz Schmidt, Alexander Zemlinsky, Franz Schrecker and Richard Heuberger were among his many students.
The opening Allegro molto moderato, quasi allegretto, is genial and playful. Fuchs uses syncopation tellingly to create surprise at the thematic development. The second movement, Allegro vivace, is one of the great scherzos of the romantic literature. The melody continually flits between the major and minor while rhythm once again plays a very important role in framing the music. The marvelously contrasting trio section consists of a lovely singing melody presented by the cello. The Andante sostenuto which follows begins in manner of a simple Austrian country folk melody but after several pastoral refrains the middle section unleashes a dramatic torrent in the minor. The finale, Andantino, Allegro, begins with a slow, diffident introduction which eventually gives way to the joyous, bustling main section written on a huge scale. (our sound-bites starts at the Allegro) Fuchs, in total command of his considerable technical talent, shows, by from time to time exploring the outer limits of traditional tonality, that though he was nearly 70, he was up to date. The quartet ends in grand fashion with a satisfying coda.
Published only once and out of print for long periods of time, we hope that by making this outstanding work available again, we will help to bring it to the attention chamber music players both professional and amateur.
Parts: $24.95