Presents
Robert Fuchs
String Trio in A, Op.94 for Violin, Viola & Cello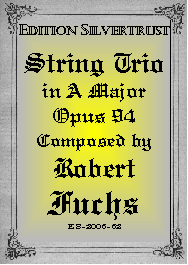 In Austrian composer Robert Fuchs (1847-1927) we have yet another whose music is almost always on the very highest level and deserving of performance in concert. Fuchs was born near the Styrian capital of Graz and attended the University of Vienna Conservatory studying with Otto Dessoff and Joseph Hellmesberger. By 1875, Fuchs himself was teaching at the Conservatory, eventually rising to the rank of Professor of Composition. He was one of the most famous and revered teachers of his time. Mahler, Sibelius, Hugo Wolf, Franz Schmidt, Alexander Zemlinsky, Franz Schrecker and Richard Heuberger were among his many students.
That his compositions did not become better known was largely due to the fact that he did little to promote them, living a quiet life in Vienna and refusing to arrange concerts, even when the opportunity arose, in other cities. He certainly had his admirers, among them Brahms, who almost never praised the works of other composers. But with regard to Fuchs, Brahms wrote, "Fuchs is a splendid musician, everything is so fine and so skillful, so charmingly invented, that one is always pleased." Rarely, if ever, did another composer receive this kind of an accolade from Brahms. Famous contemporary conductors, including Arthur Nikisch, Felix Weingartner and Hans Richter, championed his works when they had the opportunity but with few exceptions, it was his chamber music which was considered his finest work.
The String Trio in A Major, Op.94 dates from 1910. This is a modern sounding work, completely tonal but certainly showing that Fuchs, who was 63 at the time he wrote it, was not immune from the advances in tonality that composers such as Bruckner, Mahler and the post-Brahmsians had made. By and large, this trio sounds no less modern than Dohnanyi's. Wilhelm Altmann, perhaps the most influential chamber music critic of the 20th century writes of this trio:
"Considering the dearth of good string trios, this work should be very welcome. The fresh, unhackneyed main theme of the first movement, Allegro moderato, is immediately attractive. The slow movement, Andante espressivo, consists of very melodious variations on a Scottish folk-song O cruel was my father, perfect in design and simple in character. A richly chromatic Minuetto serves as the third movement. A bright, energetic trio is placed in the middle. It has a bit of the early 20th Century freneticism one later hears in neo-classical music and surely the roots of those who stuck with tonality can be seen here. The last movement contains a slow introduction, an Allegretto piacevole with a fugato opening and a really thrilling Allegro vivace." (our sound-bite gives a bit of the intro & the allegro vivace)
We believe this is a masterwork for string trio and highly recommend it.
Parts: $19.95