Presents
Niels Gade
Novelletten for Piano Trio, Op.29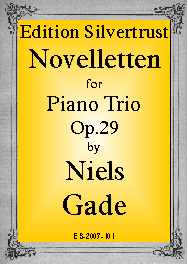 The editor of Cobbett's Cyclopedic Survey of Chamber Music had this to say (1929) when writing about Niels Gade's Novelletten:
"This is a prime favorite among amateurs seeking for pieces of moderate difficulty for public performance."
Absolutely correct. The five pieces that compose Gade's Novelletten are strong enough and still deserve public performance, yet amateurs will have no problems with them either.
Niels Gade (1817-1890) was born in Copenhagen and began his career as a concert violinist, later taking a position with the Royal Danish Orchestra. Mendelssohn, who was much impressed by and premiered Gadeís First Symphony, invited him to teach at the famous Leipzig Conservatory. After Mendelssohnís death in 1847, Gade was appointed director of the Conservatory and also conductor of the Leipzig Gewandhaus orchestra. In 1848, he returned to Copenhagen the next year when war broke out between Prussia and Denmark. In Copenhagen, Gade became director of the Copenhagen Musical Society and established a new orchestra and chorus. He was widely regarded as Denmark's most important composer from the mid-Romantic period. He taught and influenced several Scandinavian composers, including Edvard Grieg, Carl Nielsen and Otto Malling. His own music often shows the influence of both Mendelssohn and Schumann.
The Novelletten (meaning shorter pieces) date from 1855 and consist of five character pieces, each with a different mood. The opening piece, Allegro scherzando, thrusts forward powerfully before whirling away in a lighter vein. A lovely and highly romantic Andante con moto worthy of Schumann follows. The most famous of the five novelleten comes next. The theme from this determined march has been quoted several times by other composers. A fond remembrance of things past might be the subtitle for the fourth novelletten, Larghetto con moto. The finale, Allegro begins in a light-hearted way, but quickly shows a Mendelssohnian sense of urgency.
Our of print for the better part of a century, with our reprint, amateurs and professionals now have another first rate set of character pieces that can be added to their repertoire.
Parts: $29.95