Presents
Hans Gál
String Quartet No.1 in f minor, Op.16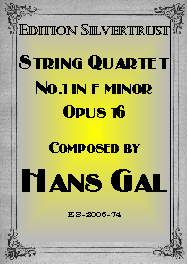 Hans Gal (1890-1987) was born in the small village of Brunn am Gebirge, just outside of Vienna. He was trained in that metropolis at the New Vienna Conservatory where he taught for some time. Later, with the support of such important musicians as Wilhelm Furtwangler, Richard Strauss and others, he obtained the directorship of the Mainz Conservatory. Gal composed in nearly every genre and his operas were particularly popular during the 1920's. Upon Hitler's rise to power, Gal was forced to leave Germany and eventually emigrated to Britain, teaching at the Edinburgh Music Conservatory for many years.
String Quartet No.1 was published in 1924 but was probably written some years before this. Of it the famous chamber music critic Wilhelm Altmann in his Handbook for String Quartet Players has written:
Those who enjoy Brahms' music should pay great attention to this work although this is not to say that it is merely a copy of Brahms' style. While the Quartet is somewhat in the style of Brahms, it is also indebted to Schubert and to the general musical milieu of 19th century Vienna. The first movement, Moderato ma con passione, has a rich, lyrical main theme which is quite inspired. The second movement, Molto vivace, is a scherzo which can trace its roots back to Schubert and provides a pleasant interlude. One finds the warmth and affection of the third movement, Adagio, quite appealing. The melodies of the finale, Allegro energico, un poco sostenuto, are imbued with humor and good feeling. In sum, the entire work is very finely written and shows good understanding of quartet style.
This quartet ought to be played in concert and can be recommended without reservation to both professionals and amateurs alike.
Parts: $24.95