Presents
Felice Giardini
String Trios for Violin, Viola & Cello
No.7 in B flat Major & No.11 in A Major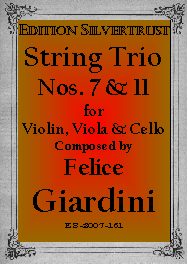 Felice Giardini (1716-1796) was born in Turin. When it became clear that he was a child prodigy, his father sent him to Milan. There he the violin and became a famous virtuoso. He was widely regarded as the greatest musical performing artist before the public. (1755-1770). He eventually settled in England where served as the concertmaster and director of the Italian Opera in London and gave solo concerts under the auspices of J.C. Bach with whom he was a close friend.
Giardini was a prolific composer writing for virtually every genre which then existed. As a string player, he knew how to make string instruments sound their best. His chamber music combines the so-called "Style Gallant" with the mid 18th classicism of J.C. Bach, the Stamitzes and the Mannheim school. In the "Style Gallant", the writing emphasizes the soloistic qualities of the instruments, rather than the integrated writing of all three parts to create a whole, which J.C. Bach and the Mannheim composers pioneered.
Giardini wrote 18 trios for violin, viola and cello. Nos. 7 and 11 are part of a set of six which were published together as his Op.20 in 1778. He was then at the height of his powers. In these trios, the roles and importance of each instrument is constantly varied. While the viola is often the glue between the violin and the cello, at times, it becomes the the soloist. The cello covers the entire range of its registers, hopping from deep in its bass to high in its tenor. Each of the trios is in three movements.
| | |
| --- | --- |
| Notes to String Trio No.7 | Notes to String Trio No.11 |
| The opening Allegro, the, first movement of No.7 is both lively lyrical. The theme is first introduced by the violin, taken further by the viola and carried forward to dramatic heights by the cello. An Adagio comes next. The mood is calm and relaxed, although as the cello reaches for the heights the tempo picks up a little. The finale, Allegro, though not actually marked a la tedesco, is nonetheless a spirited German dance. | No.11 begins in the spirit of the Mannheim school and sounds very like Carl Stamitz. The Andante refers more to the mood than to the actual tempo. The lovely second movement, Scozzese, is a real "Scottish" or Scots dance. This one imitates the bagpipes in a somber dirge very effectively. The finale, Allegro scherzando, is sprightly rondo. The melody is played out against a light moving line and pizzicato with great effect. |
Out of print for nearly half a century, these are little gems from an elegant and gracious period which we believe amateur trio groups will greatly enjoy.
Trio No.7 Parts: $19.95 / Trio No.11-Parts: $19.95
Special Offer: Both Trios: $27.95