Presents
Reinhold Gliere
String Sextet No.3 in C Major, Op.11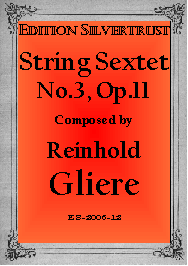 The reputation of Reinhold Gliere (sometimes spelled Glier 1875-1956) today rests primarily upon his symphonies, ballets and operas, however he was also a composer of superb chamber music. Gliere was born in the then Russian city Kiev. He began his musical studies there with the famous violin teacher Otakar Sevcik, among others. He then went to the Moscow Conservatory where he studied with Sergei Taneyev, Anton Arensky and Mikhail Ippolitov-Ivanov. His superb compositional technique was quickly recognized by his teachers and he won several prizes for his early works, including his First String Sextet which took the prestigious Glinka Prize from a jury consisting of Rimsky-Korsakov, Glazunov and Liadov. Gliere, himself, taught at the Moscow and Kiev conservatories for nearly 40 years. Among his many successful students were Khachaturian, Prokofiev and Miaskovsky.
Of Gliere's chamber music, the respected scholar and critic Professor Sabaneiev wrote:
"His chamber compositions show him to have been an absolute master of form, and a virtuoso in his control of the resources of musical composition and expression...He excelled as a melodist and his themes often reveal the contours of the Russian style which he understood so well. He had a masterly knowledge of the instruments and of their resonance, hence his chamber works are astonishingly rich and well written."
String Sextet No.3 in C Major, Op.11 dates from 1905. Wilhelm Altmann, perhaps the most famous chamber music critic of all, writes of it:
"This magnificent work is packed with a treasure chest of wonderful musical ideas. The writing is so powerful it approaches the orchestral in nature. It is a work with which every friend of chamber music should become familiar."
The joyful themes to the opening Allegro are inspired by Russian folk melody and reminiscent of the tonal coloring of Borodin. The lyrical, elegiac and emotionally charged second movement, Larghetto, is a real showcase of Gliere's mastery as the singing quality of the strings approaches that of the human voice. The third movement, Allegro, is a very Russian scherzo. with songful melodies alternating with dance episodes which become faster each time they reappear. The superb finale, Allegro vivace, begins in a festive fashion. It is here in particular that the brilliance and richness of the tone Gliere elicits approaches the orchestral in its intensity.
In addition, we are pleased to offer this Sextet in a version for 2 Violins, 2 Violas, Cello and Bass. Our bass part was made by Anthony Scelba, noted bass soloist, Professor of Music and Director of the Concert Artists Program of Kean University. In an effort to give bass players a chance to play many of the great works of the chamber music repertoire, Professor Scelba has made several highly acclaimed transcriptions, including one for the Schubert Quintet D.956, which has been recorded.
| | | |
| --- | --- | --- |
| (A) 2 Violins, 2 Violas & 2 Cellos-Parts | $39.95 | |
| (B) 2 Violins, 2 Violas & 2 Cellos-Parts & Score US Addresses | $64.95 | |
| (C) 2 Violins, 2 Violas & 2 Cellos-Parts & Score NON US Addresses | $79.95 | |
| (D) 2 Violins, 2 Violas, Cello & Bass-Parts | $39.95 | |
| (E) 2 Violins, 2 Violas, Cello & Bass-Parts & Score US Addresses | $64.95 | |
| (F) 2 Violins, 2 Violas, Cello & Bass-Parts & Score NON US Addresses | $79.95 | |
| (G) All Seven Parts | $46.95 | |
| (H) All Seven Parts & Score US Addresses Only | $71.95 | |
| (I) All Seven Parts & Score NON US Addresses | $86.95 | |