Presents
Carl Goldmark
Piano Trio No.2 in e minor, Op.33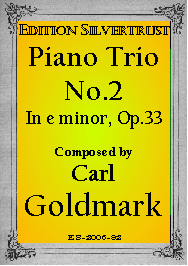 Carl Goldmark (1830-1915) was born in the town of Keszthely in Austria-Hungary. His early musical training was at the conservatories in Sopron and Odenburg. His father then sent him to Vienna where he briefly studied violin under two of the better known teachers, Leopold Jansa and Joseph Böhm. As a composer, however, Goldmark was largely self-taught.
World-wide fame came to him with the performance of his opera The Queen of Sheba. He wrote in most genres and many of his other compositions, such as his Violin Concerto and the Rustic Wedding Symphony, were quite popular during his lifetime and for several years thereafter. His chamber music was well-thought of and also received concert performances while he was alive but sadly disappeared from the concert stage after his death. Brahms was to become a good friend but Goldmark's chamber music does not show much of that composer's influence. Rather, one sometimes hears an interesting mix of Mendelssohn and Schumann often seasoned with lively Hungarian gypsy melodies.
His Second Piano Trio, Op.33 dates from 1879 and was widely considered among the front rank of then contemporary piano trios. The important chamber music critic Rudolf Felber writes of the trio as follows:
It is a fully mature work and shows Goldmark at the height of his artistic and technical mastery. The first movement, Allegro con moto, begins in a simple but very noble manner. The second theme is delicate in feeling and imaginative in development. A lively somewhat Mendelssohnian Scherzo comes next. It is impish, goblin music, while the trio section, Andante grazioso, which is pleasingly naive in character, offers an effective contrast. The slow movement comes third. It is a short Andante sostenuto is full of grace and elegance and after the mad whirlwind of the Scherzo produces a doubly pleasing effect by its unpretentiousness. The buoyant finale, Allegro, is full of life and energy although it closes in a meditative and dreamy fashion.
Long out of print, we are pleased to reintroduce this fine work which not only deserves concert performance but will also be a great pleasure to amateurs.
Parts: $29.95