Presents
Théodore Gouvy
String Quintet in G Major, Op.55
For 2 Violins, Viola & 2 Cellos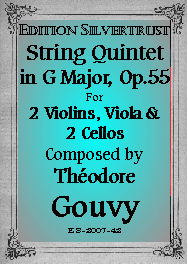 Théodore Gouvy (1819-1898) was born into a French speaking family in the Alsatian village of Goffontaine which at the time belonged to Prussia. As a child, he showed no significant talent for music and after a normal preparatory education was sent to Paris in 1836 to study law. While there, he also continued piano lessons and became friendly with Adolphe Adam. This led to further music studies in Paris and Berlin. Gouvy, drawn toward pure instrumental music as opposed to opera, set himself the unenviable task of becoming a French symphonist. It was unenviable because the French, and especially the Parisians, throughout most of the 19th century were opera-mad and not particularly interested in pure instrumental music. It was this distain for instrumental music in general which led to Gouvy living the last third of his life almost entirely in Germany where he was much appreciated. During his lifetime, his compositions, and especially his chamber music, were held in high regard and often performed in those countries (Germany, Austria, England, Scandinavia & Russia) where chamber music mattered. But in France, he never achieved real acclaim. Gouvy was universally acknowledged for being a master of form and for his deft sense of instrumental timbre. Mendelssohn and Schumann were his models and his music developed along the lines one might have expected of those men had they lived longer. Virtually all of his works show that he was a gifted melodist whose music is a joy to hear.
Gouvy's String Quintet with two cellos dates from 1869. There are not so many string quintets for this combination and it is not at all unlikely that Gouvy may have had Schubert's on his mind and there is a certain affinity between the two works. Wilhelm Altmann in his famous chamber music handbook describes the Quintet as follows:
The lovely first movement, Allegro, is characterized by particularly fine writing. The main theme is a beautiful Idyll. The second movement, Andante con moto, provides an excellent contrast to the preceding movement. It is akin to a sad ballad or a legende. The music is doleful with a funereal quality to it. With the third movement, Allegro con brio, which serves as the scherzo, jovial spirits return. In the genial finale, Allegretto vivo, both of the themes, though lyrical, are lively. There are many extraordinarily fine episodes of great tonal beauty in this winning movement. This quintet will find friends where ever it is played.
In addition, we are pleased to offer this Quintet in a version for 2 Violins, Violas, Cello and Bass. Our bass part was made by Anthony Scelba, noted bass soloist, Professor of Music and Director of the Concert Artists Program of Kean University. Professor Scelba has created an idiomatic bass part that adds breadth and clarity to the timbral spectrum of the work, making it a welcome addition to the double bass chamber music repertoire.
| | | |
| --- | --- | --- |
| (A) 2 Violins, Viola & 2 Cellos-Parts | $29.95 | |
| (B) 2 Violins, Viola, Cello & Bass-Parts | $29.95 | |
| (C) All Six Parts | $36.95 | |

Out of print for more than a century, we hope our republishing it will revive a fine work which deserves to be played as well as heard.