Presents
Alexander Gretchaninov
String Quartet No.1 in G Major, Op.2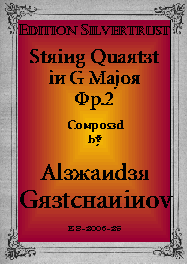 Moscow born Alexander Gretchaninov (1864-1956) started his musical studies rather late because his father, a businessman, had expected the boy to take over the family firm. Gretchaninov himself related that he did not see a piano until he was 14 and began his studies at the Moscow Conservatory in 1881 against his parents' wishes and without their knowledge. His main teachers there were Arensky and Sergei Taneyev. In the late 1880s, after a quarrel with Arensky, he moved to St. Petersburg where he studied composition and orchestration with Rimsky-Korsakov until 1893. Korsakov immediately recognized Gretchaninov's extraordinary musical imagination and talent, giving him much extra time as well as considerable financial help, which allowed the young man, whose parents were not supporting him, to survive. Out of this came an important friendship, which only ended in 1908 with Rimsky's death. As such, it is not surprising that Rimsky's influence can be heard in Gretchaninov's early works, such as his String Quartet No.1, a prize-winning composition. While it shares considerable affinity with the works written by other well-known composers such as Borodin, Liadov, Glazunov, Sokolov, and Kopylov, who were all students of Korsakov, it is the equal to anything they produced.
Around 1896, Gretchaninov returned to Moscow and was involved with writing for the theater, the opera, and the Russian Orthodox Church. His works, especially those for voice, achieved considerable success within Russia, while his instrumental works enjoyed even wider acclaim. By 1910, he was considered a composer of such distinction that the Tsar had awarded him an annual pension. Though he remained in Russia for several years after the Revolution, ultimately, he chose to emigrate, first to France in 1925 and then to the U.S. in 1939 where he remained for the rest of his life.
String Quartet No.1 was completed some months after Gretchaninov finished his studies at the Petersburg Conservatory. It was entered in the competition of 1894 where it won first prize with the result that it was published both in Russia and Germany. The first movement Andante--Allegro non troppo begins with a slow and highly romantic brief introduction which quickly builds to a climax and then gives way to the main movement, overflowing with attractive melodies. These gorgeous melodies, of folk origin, are surely part of the reason this quartet took took the top prize. The extraordinarily beautiful second movement, Andante, again takes traditional Russian folk music for its inspiration. The vocal quality of the music is very apparent and is of the highest quality. Next comes a scherzo, Presto, full of high spirits. The finale, Andante--Molto vivace e con brio, begins pensively in a somewhat sad vein but quickly dissolves into the highly accented and rhythmically pulsing first theme of the main movement. The lyrical second theme provides a wonderful contrast. This is a superb quartet which would be an ornament in any professional quartet's repertoire. As it makes no great technical demands, it should be especially appealing to amateurs who will undoubtedly get great pleasure from it.
Parts: $24.95