Presents
Alexander Gretchaninov
String Quartet No.2 in d minor, Op.70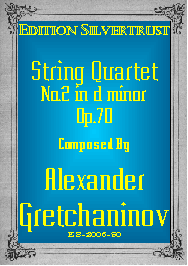 Moscow born Alexander Gretchaninov (1864-1956) started his musical studies rather late because his father, a businessman, had expected the boy to take over the family firm. Gretchaninov himself related that he did not see a piano until he was 14 and began his studies at the Moscow Conservatory in 1881 against his parents' wishes and without their knowledge. His main teachers there were Arensky and Sergei Taneyev. In the late 1880s, after a quarrel with Arensky, he moved to St. Petersburg where he studied composition and orchestration with Rimsky-Korsakov until 1893. Korsakov immediately recognized Gretchaninov's extraordinary musical imagination and talent, giving him much extra time as well as considerable financial help, which allowed the young man, whose parents were not supporting him, to survive. Out of this came an important friendship, which only ended in 1908 with Rimsky's death. As such, it is not surprising that Rimsky's influence can be heard in Gretchaninov's early works, such as his String Quartet No.1, a prize-winning composition. While it shares considerable affinity with the works written by other well-known composers such as Borodin, Liadov, Glazunov, Sokolov, and Kopylov, who were all students of Korsakov, it is the equal to anything they produced.
Around 1896, Gretchaninov returned to Moscow and was involved with writing for the theater, the opera, and the Russian Orthodox Church. His works, especially those for voice, achieved considerable success within Russia, while his instrumental works enjoyed even wider acclaim. By 1910, he was considered a composer of such distinction that the Tsar had awarded him an annual pension. Though he remained in Russia for several years after the Revolution, ultimately, he chose to emigrate, first to France in 1925 and then to the U.S. in 1939 where he remained for the rest of his life.
String Quartet No.2 in d minor, Op.70 dates from 1913. It, too, won a prize but is an entirely different work both in mood and tonality. As one contemporary critic put it, "It would be hard to ascribe the two quartets to the same composer." While the First shows the influence of Rimsky Korsakov and to a lesser extent Tchaikovsky, the Second is a kind of synthesis of Sergei Taneyev, Scriabin and the French impressionists, but it really sounds like none of them. The opening movement, Andante—Allegro non troppo, begins with a moody, brooding introduction which only slowly picks up in tempo and never really becomes fast. It is a searching movement, the music gives the impression of approaching new frontiers, but remains conventionally tonal. The lively, captivating Scherzo which follows is a masterly example of polytonality and counterpoint. We can hear the beginnings of the neo-romantic movement here. Next comes a Largo in which the tonalities are more conservative. There is an extraordinarily attractive fugue in the middle. In the wonderful finale, a bright Allegro, both the mood and melodies are the closest to his old style but there are also forward-looking moments as well.
This fine work belongs in any professional quartet's repertoire and is well within the reach of competent amateurs who will certainly enjoy it.
Parts: $24.95