Presents
Adolph Henselt
Piano Trio in a minor, Op.24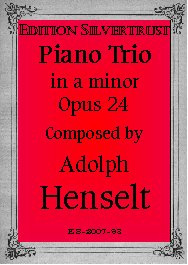 Adolph Henselt (1814-1889), who was born in Schwabach near Nuremburg studied piano and composition with several teachers, the most famous being Johann Nepomuk Hummel for piano and Simon Sechter for composition. His rise to the front rank of pianists was meteoric. What was astonishing was that he accomplished it in less than two years with only a few public concerts. By 1837, he was being mentioned in the same breath as Liszt, Chopin and Thalberg. In 1838, he traveled to St. Petersburg where he initially enjoyed great success as a performer. But Henselt suffered greatly from stage fright and as a result was unable to persue the career of touring virtuoso. Instead, he devoted himself to composition and teaching, mentoring a whole generation of Russian pianists.
Most of Henselt's compositions are for piano and Schumann wrote that many of them brought tears of pleasure to his eyes. It is perhaps to him that we owe the Op.24 Piano Trio as he encouraged Henselt to try his hand at larger forms. The trio dates from 1851 and is dedicated to his friend Franz Liszt. The turbulent opening Allegro ma non troppo begins with a lovely and lyrical melody but tension is quickly built and an emotional climax is quickly reached before the introduction of the appealing and somewhat calmer second theme. The Andante which follows, much like the first movement, begins quietly with a simple but beautiful melody. Before long, it is interrupted by powerful emotional outbursts which punctuate the development and create a original and striking effect. Then a comes an exciting and energetic Presto which hardly allows one to catch one's breath. The lyrical trio provides an excellent contrast. The finale, Allegro non troppo, has for its first theme an urgent-sounding, somewhat Mendelssohnian melody. A highly romantic second subject follows and the music concludes with an explosive coda.
Schumann praised this trio as an extraordinary accomplishment and anyone who either hears or plays it will soon conclude that this is a very fine work. Long out of print, this trio ought to be revived in concert and will surely give amateurs much enjoyment as well.
Parts: $29.95