Presents
Salomon Jadassohn
Piano Quartet No.1 in c minor, Op.77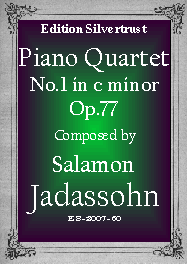 Salomon Jadassohn (1831-1902) was one of the most famous and respected teachers of composition during the last half of the 19th century. He was born in Breslau, the capital of the Prussian province of Silesia. First educated locally, Jadassohn enrolled at the Leipzig Conservatory in 1848, just a few years after it had been founded by Mendelssohn. There he studied composition with Moritz Hauptmann, Ernst Richter and Julius Rietz as well as piano with Ignaz Moscheles. At the same time, he studied privately with Franz Liszt in Weimar.
Being Jewish, Jadassohn was unable to qualify for the many church jobs which were usually available to graduates of a conservatory such as Leipzig. Instead he worked for a Leipzig synagogue and a few local choral societies as well as teaching privately. Eventually, he was able to qualify for a position at the Leipzig Conservatory, teaching piano and composition. Among his many students were Grieg, Busoni, Delius, Karg-Elert, Reznicek and Weingartner.
Jadassohn wrote over 140 works in virtually every genre, including symphonies, concertos, lieder, opera and chamber music, the latter being among his finest compositions. Considered a master of counterpoint and harmony, he was also a gifted melodist, following in the tradition of Mendelssohn. But one also hears the influence of Wagner and Liszt, whose music deeply impressed him.
Jadassohn scholar Klaus-Peter Koch believes that Jadassohn and his music were not better known primarily for two reasons: The first being Carl Reinecke and the second being the rising tide of anti-semitism in late 19th century Wilhemine Germany. Reinecke was almost Jadassohn's exact contemporary and somewhat of a super-star. Not only was he a world famous piano virtuoso but also an important professor at the Leipzig Conservatory and later its director. If this were not enough, he served as the conductor of the renowned Leipzig Gewandhaus Orchestra. Under these circumstances, it was hard for a colleague to get the public's attention. Koch notes, that toward the end of the 19th century, anti-semitic critics attacked Jadassohn's music, labeling it academic and dry, an epithet which has stuck with it ever since without anyone ever investigating. However, even a brief hearing of any of his chamber music reveals how ludicrous this assessment is. Listen to our sound-bites. Salomon Jadassohn was a first-rate composer, who unfortunately was never really given a chance to promote his music.
Jadassohn's First Piano Quartet dates from 1884 when he was at the height of his powers. The opening movement, Mesto-Allegro agitato, begins with a slow, brooding and somewhat sad introduction, which quickly builds excitement and tension, and then gives way to the Allegro. Tonally rich, written for all of the voices in their mid and low registers, Jadassohn achieves a satisfying fullness. The second movement is an updated and brilliant Mendelssohnian Scherzo, allegro vivace. Light and airy, goblins can be heard dancing. The Quartet's center of gravity is clearly its slow movement, Adagio. The lovely opening theme has a valedictory quality to it. Painted on a broad tonal canvas, the music proceeds along quite leisurely, taking its time to slowly build to a dramatic climax in its middle section. The part writing is clearly outstanding and, of its type, surely the equal of anything else written. The finale, Allegro con brio, might well serve as a textbook example of how to bring a work to a successful conclusion. Warm and big-shouldered, the genial melody and tonal writing are all that one could ask for.
Of its kind, this is a masterwork. It goes without saying that it should be performed in concert. It presents no particular technical difficulties to amateurs and cannot be too highly recommended. Out of print for a century, we are pleased to make it available once again.
Parts: $34.95