Presents
Joseph Jongen
Piano Trio No.1 in b minor, Op.10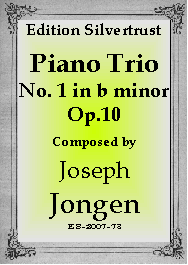 Joseph Jongen (1873-1953) was truly born to be a musician. On the strength of an amazing precocity for music, he was admitted to the Liege Conservatory (in Belgium) where he spent the next sixteen years. It came as no surprise when he won the First Prize for Fugue in 1891, an honors diploma in piano the next year and another for organ in 1896 . In 1897, he won the prestigious Grande Prix de Rome which allowed him to travel to Italy, Germany and France. He began composing at the age of 13 and immediately exhibited extraordinary talent. By the time he published his opus one, he already had dozens of works to his credit.
His First Piano Trio, which dates from 1897, is in three movements though written on a large scale. The opening Allegro appassionato has a flowing and passionate, song-like melody for its main theme. The second theme bears an amazing resemblance to the melody found in the second part of Rimsky-Korsakov's Scheherazade. This may have or may not have been coincidence. Of course, it receives a very different treatment. The lovely middle movement, Andante molto sostenuto, begins almost as a recitative. As the music progresses both themes from the first movement make an appearance though in quite a different setting. The trio concludes with a sparkling Allegro deciso, which begins with an urgent and searching melody. This occupies the first section. But then, all of the themes which have preceded it are brought together and masterly worked out before giving way to a brilliant coda.
It is hard to understand how a work of this quality is not better known. The explanation, of course, can be found in the be explained by the fact that Jongen remained nearly his entire life in tiny Belgium outside of the purview of mainstream musical Europe. The trio belongs in the repertoire and though challenging, it is not beyond experience amateurs.
Parts: $29.95