Presents
Paul Juon
Four Trio Miniatures
For 4 Different Trio Ensembles--all with Piano--See Below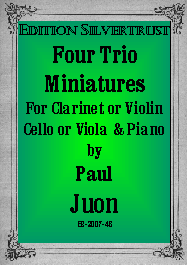 During his lifetime, Paul Juon (1872-1940) was widely regarded as an important composer and his works were given frequent performance throughout Europe. He has been called the link between Tchaikovsky and Stravinsky. In his early music, one can hear the influence of his Russian homeland and schooling. Of course, Juon recognized that though he had been born in Russia and schooled there, he was a still foreigner living among Russians. His second period is more cosmopolitan and is in tune with the contemporary Central European trends of the early 20th century. Ultimately, it is hard to characterize his music as Russian or German, Romantic, Modern or Folkloric, because one can find all of these elements in his music.
Paul Juon was the son of Swiss parents who emigrated to Moscow where he was born. Educated at the Moscow German High School, he entered the Moscow Conservatory where he studied violin with Jan Hrimaly and composition with Anton Arensky and Sergei Taneyev. After graduating, he went to Berlin for further composition instruction from Woldemar Bargiel. Juon served as a professor of composition at the prestigious Berlin Hochschule für Musik between 1906 and 1934.
The Four Trio Miniatures date from 1901 and were originally taken from a series he had written for the piano. However, Juon recognized the emotional content of these works could be better expressed by wind and string instruments rather than a solo piano and hence rewrote them as a small suite for a piano trio of clarinet or violin, cello or viola, and piano. The first, Reverie, is dreamy and reflective, expressing a yearning for things past. The second, Humoresque, is a perky dance with a hornpipe middle section that is quicker yet. The title to the third, Elegy, gives notice of the sad, but not tragic mood. The last, Dance Fantastique, begins as a slow, melancholy waltz, the middle section is quite lively and gay. These exquisite miniatures are among the finest in the late romantic literature, little gems which we believe professional and amateur trio groups will greatly enjoy.
| | | |
| --- | --- | --- |
| (A) Clarinet, Cello & Piano | $19.95 | |
| (B) Clarinet, Viola & Piano | $19.95 | |
| (C) Violin, Cello & Piano | $19.95 | |
| (D) Violin, Viola & Piano | $19.95 | |
| (E) All Five Parts | $26.95 | |