Presents
Robert Kahn
Trio in g minor, Op.45
for Piano, Clarinet (or Violin) and Cello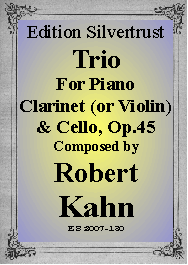 Kahn's Op.45 Trio for Clarinet, Cello and Piano, like most of his chamber music, is marked by authentic melodic inspiration, excellent part writing and a brilliant use of instrumental color and timbre.
Robert Kahn (1865-1951) was born in Mannheim of a well-to-do banking family. He began his studies at the Hochschule für Musik in Berlin. There, he got to know and became friends with Joseph Joachim who was the director. It was through both Joachim and his own family that he had a chance to get to know Brahms, who was so impressed with Kahn that he offered to give him composition lessons. However, Kahn was too overawed to accept. Nevertheless, Brahms did help Kahn informally, and while Kahn's work does, to some extent, show the influence of Brahms, he is an eclectic and independent composer whose music has its own originality. After finishing his studies in Berlin, Kahn, on Brahms' suggestion, went to Munich to study with Joseph Rheinberger. After completing his own studies, he worked for a while as a free lance composer before obtaining a position at the Hochschule in Berlin where he eventually became a professor of piano and composition.
The trio dates from 1906. Publishers generally, when given a work for this combination, routinely asked the composer to also produce a version for a more common ensemble, such as the standard piano trio. Kahn's publisher made such a request and Kahn complied. Unlike some works which are given an alternate string part for the clarinet---such as those by Brahms---Kahn's trios sound as good, though of course different, without the clarinet as with it. The opening Allegro has a mellow, but darkly subdued melody given out by the clarinet. But when the cello enters, the passion, which has hidden just below the surface, breaks out. The middle movement, Allegretto quasi andantino, is a genial, somewhat dreamy intermezzo. The finale, though marked Presto, has many different tempi within it. It begins with a brief, restless introduction before the powerful and dramatic main theme bursts forth. The second subject is calmer and more lyrical.
This is an unqualified late romantic masterpiece. It belongs in the concert hall and will also have great appeal for amateurs. Out of print for over a century, we have improved on the original edition by adding rehearsal numbers and correcting the errors.