Presents
Friedrich Kiel
Piano Trio No.7 in g minor, Op.65 No.2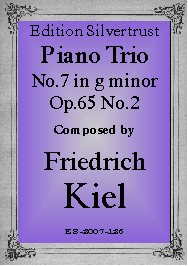 "The two Op.65 piano trios are very fine works." So wrote Wilhelm Altmann, perhaps the greatest of chamber music critics. Altmann felt that it was Kiel's extreme modesty which kept him and his exceptional works from receiving the consideration they deserved. And what consideration did they deserve? After mentioning Brahms and others, Altmann writes, "He produced a number of chamber works, which...need fear no comparison."
Kiel (1821-1885) was taught the rudiments of music and received his first piano lessons from his father but was in large part self-taught. Something of a prodigy, he played the piano almost without instruction at the age of six, and by his thirteenth year he had composed much music. Kiel eventually studied with the renowned theorist Siefried Dehn in Berlin. He remained there holding several prestigious teaching positions including serving as a professor at the Hochschule für Musik, one of the finest music schools in Germany. Among his many students were Noskowski, Paderewski and Stanford.
Piano Trio No.7 was composed immediately after No.6 and also dates from around 1875. The opening movement, Allegro moderato, ma con passione, begins in a dark and brooding vein. Kiel takes his time, masterfully raising the tension and listener's expectations. Eventually the tempo picks up with a rocking melody but the mood is far from bright. Finally, the cello introduces the lyrical and lovely second theme, which while not exactly bright is optimistic. In the middle movement, Adagio, Kiel brings forth a gorgeous, valedictory melody. While it is certainly not funereal or tragic, there is nonetheless a deep sense of sadness and leave taking. The treatment of the three instruments leaves nothing to be desired. The finale, a Rondo, is quite unusual. There is a gypsy quality to it, but for much of the movement, a heavy lassitude prevents any fiery outbursts. Kiel keeps us guessing until the very end when a vivace brings this fine work to a satisfying close.
Here is another masterpiece by one of the very best unknown composers of the 19th century. Recognized by his peers as a master, it is a real shame that we do not get to hear this work in concert. It has been out of print for more than a century. We have reprinted the first edition but corrected errors and have added rehearsal numbers. We hope professionals and amateurs alike will become acquainted with this excellent trio.
Parts: $29.95