Presents
Friedrich Kiel
String Quartet No.1 in a minor, Op.53, No.1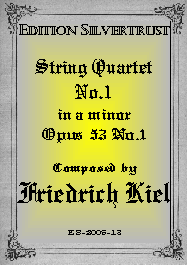 Writing of the chamber music of Friedrich Kiel (1821-1885), Wilhelm Altmann—perhaps the greatest of chamber music critics—notes that it was Kiel's extreme modesty which kept him and his exceptional works from receiving the consideration they deserved. And what consideration did Altmann feel these works deserved? After mentioning Brahms and others, Altmann writes, "He produced a number of chamber works, which...need fear no comparison." Altmann, himself, said that he found in Kiel's chamber music a "never ending source of delight." That his works remained relatively unknown was due mostly to his modesty but also, Altmann explains, to the high cost of the original editions. We agree with Herr Altmann: To play and hear Friedrich Kiel's chamber music is a wonderful experience.
Kiel was taught the rudiments of music and received his first piano lessons from his father but was in large part self-taught. Something of a prodigy, he played the piano almost without instruction at the age of six, and by his thirteenth year he had composed much music. Kiel eventually came to the attention of Prince Wittgenstein, a great music lover. Through the Prince's efforts, Kiel was allowed to study violin with the concertmaster of the Prince's fine orchestra with which he later performed as a soloist. Kiel was also given theory lessons from the renowned flautist Kaspar Kummer. By 1840, the eighteen year old Kiel was court conductor and the music teacher to the prince's children. Two years later, Spohr heard him and arranged for a scholarship which allowed Kiel to study in Berlin with the renowned theorist and teacher Siefried Dehn. In Berlin, Kiel eventually became sought after as an instructor. In 1866, he received a teaching position at the prestigious Stern Conservatory, where he taught composition and was elevated to a professorship three years later. In 1870 he joined the faculty of the newly founded Hochschule für Musik which was shortly thereafter considered one of the finest music schools in Germany. Among his many students were Noskowski, Paderewski and Stanford. Kiel's hobby was mountaineering and at age 60--two years before his tragic death as the result of a traffic accident--he climbed Europe's second highest peak, Monte Rosa.
That Kiel's first rate chamber music has not entered the standard repertoire is a travesty. We, at Edition Silvertrust hope to remedy this by bringing out some of his most appealing chamber music. Kiel's String Quartet No.1 was clearly inspired by Beethoven's great Op.132 (Qt. No.15). The tempo marking to the towering, massive opening movement, Allegro ma non troppo, is somewhat misleading. There really is nothing allegro here and in any event, the tempi are constantly changing while the mood remains elegaic throughout. In the charming second movement, Allegro, we hear echoes of Beethoven in the lovely Tedesca folk dance. The third movement is a solemn Adagio with a turbulent, passionate middle section of great originality. The finale, begins with a brief slow introduction before a hectic tarantella breaks forth. (our soundbite starts here) The lovely singing second theme provides a beautiful contrast. This is a very fine work which belongs in the standard repertoire.
Parts: $24.95