Presents
Wilhelm Kienzl
String Quartet No.1 in b flat minor, Op.22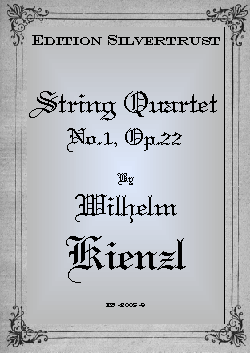 Wilhelm Kienzl (1857-1941) was born in the small, picturesque upper Austrian town of Waizenkirchen. His family moved to the Styrian capital of Graz not long after. It was there that he began studies on the piano and later in composition. Subsequently he was sent to the music conservatory at Prague University. There his teacher, Josef Krejci who was also the director of the conservatory, took him to Bayreuth to hear the first performance of Wagner's Ring Cycle. It made a lasting impression on Kienzl and though he subsequently fell out with "The Wagnerites", he never lost his love for Wagner's music. The exposure to Wagner resulted in Kienzl eventually studying with Liszt at the Leipzig Conservatory before completing doctoral studies at the University of Vienna. Kienzl's first love was opera and then vocal music and it was in these two genres that he made his name. Several of his operas, such as Evangelimann, Kuhreigen, Urvasi and Heilmar der Naar, became famous and were widely performed throughout the German-speaking world. He was also considered, along with Hugo Wolf, one of the finest composers of Lieder (art songs) since Schubert.
Despite the fact that opera came first in his life, as it did for Mozart, Kienzl (again like Mozart) by no means ignored chamber music. He wrote three string quartets and a piano trio. While the last two quartets come from his later years, String Quartet No.1 dates from the time when he had just completed his studies. (1880) As one one might expect, it is full of youthful exuberance, turmoil and tumult. Kienzl wrote, that at the time, the music of Schumann and especially Schubert was most on his mind. And one can hear the kinship of shared feeling with Schubert--the feeling of man's struggle against adversity and a cruel fate. The opening movement, Largo-Allegro moderato, begins with a brief but highly-charged slow introduction. There is the sense of impending tragedy. And, in fact, the lovely main theme to the Allegro(where our soundbite begins) has a sad, pleading quality to it. Kienzl follows this with a graceful, stately but old-fashioned minuet and trio (our sound bite is from the Trio). The melancholy slow movement, Adagio ma non troppo, again clearly has the aura of Schubert about it. In the striking finale, Allegro energico e molto vivace, Kienzl replaces the dark mood of the Adagio with one of hope. This boisterous music, which is in the major, is full of optimism and youthful excitement. The writing provides a good example of the brilliance Kienzl could achieve.
This appealing quartet will find friends wherever it is played. It would by no means be amiss to usher in its return to the concert stage.
Parts: $24.95