Presents
Hans Koessler
String Sextet in f minor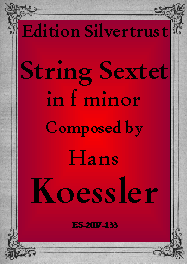 "Hans Koessler's sextet was published in 1902. Of it, one must say that it is an outstanding work. It is multi-faceted and highly original throughout, beautiful sounding and grateful to play. The opening movement begins with a very atmospheric Adagio non troppo introduction which is followed by a gradual transition to the tempo of the main section, Allegro. This movement is packed full of lovely melodies. Koessler follows this up with a Hungarian Scherzo and a very melodic trio section. The slow movement, a warm-blooded Adagio, has Schumann for an antecedent. The Finale, Allegro con brio, is no ordinary finale. It makes incredibly clever use of counterpoint in presenting its high-spirited and at times humorous themes."
This was the opinion of the esteemed chamber music critic Wilhelm Altmann, writing in his Chamber Music Handbook. Another opinion comes from the Editor of the Chamber Music Journal who has written that Koessler's sextet need not fear comparison with Brahms' two master sextets and can match them note for note. This is strong language, but we feel once you hear the sound-bites you will agree. (Our sound-bite of the first movement only presents a very small part of the introductory Adagio)
Hans Koessler (1853-1926) is a master composer who wrote some of the most outstanding music that you have never heard. Koessler was born in the town of Waldbeck in upper Bavaria. He studied organ and composition with Joseph Rheinberger in Munich, holding a number of positions in Germany before moving to Hungary to become Professor of Organ, Composition and Choral direction at the Music Academy of Budapest in the early 1880's. He stayed there until his retirement in 1908. Bartok, Kodaly, Dohnanyi, Leo Weiner and Imre Kalman were all among his many students and he was widely regarded as the finest teacher of composition in Austria-Hungary during the 1890's and the first part of the 20th century. It goes without saying that this is an outstanding masterwork, which, sadly has been out of print for well over 50 years. We hope it will find its way on to the music stands of professionals and amateurs alike.
In addition, we are pleased to offer this Sextet in a version for 2 Violins, 2 Violas, Cello and Bass. Our bass part was made by Anthony Scelba, noted bass soloist, Professor of Music and Director of the Concert Artists Program of Kean University. In an effort to give bass players a chance to play many of the great works of the chamber music repertoire, Professor Scelba has made several highly acclaimed transcriptions, including one for the Schubert Quintet D.956, which has been recorded.
| | | |
| --- | --- | --- |
| (A) 2 Violins, 2 Violas & 2 Cellos-Parts | $39.95 | |
| (B) 2 Violins, 2 Violas, Cello & Bass-Parts | $39.95 | |
| (C) All Seven Parts | $46.95 | |