Presents
Arnold Krug
String Sextet in D Major, Op.68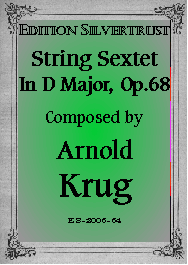 Arnold Krug (1849-1904) was born in Hamburg. He began his music studies with piano lessons from his father, who was a music teacher. Later, he was sent to the Leipzig Conservatory where he studied with Carl Reinecke and then went on to Berlin, where continued with Friedrich Kiel and Eduard Franck. (We publish works by both of these fine composers). After completing his studies, he taught in Berlin before returning to Hamburg where he remained for the rest of his life.
This string sextet was known as the "Prize Sextet" because Krug won the Stelzner Prize for chamber music with this composition. Alfred Stelzner was an inventor who was originally trained as a physicist and mathematician. He became interested in string instruments and developed two instruments--the Violotta and the Cellone--which he believed would create a revolution in composing for string instruments. The Violotta, tuned an octave below the violin, was said to fill the gap between the viola and the cello. The Cellone was a big cello, tuned two octaves below the violin, or a fourth below the cello, and meant to fill the gap between the cello and the kontrabass.
Stelzner began production of his new instruments in 1890 and continued to make them until 1900. He vigorously promoted his instruments through advertising and obtained endorsements from many famous musicians of the day, including Joseph Joachim, Eugene Ysaye, David Popper, and August Wilhelmi. In addition, he helped sponsor competitions in various categories such as orchestral symphonies, opera and chamber music. One such competition was sponsored by the Dresden Conservatory in 1896, the competition in which Krug won his prize. Ultimately, Stelzner was unable to interest the music establishment at large and he was forced to stop production.
The Prize Sextet was originally for 2 Violins, Viola, Violotta, Cello and Cellone, but the publisher of the work wisely hedged his bets and produced an edition, upon which ours is based, for the standard combination of 2 Violins, 2 Violas and 2 Cellos. Our sound-bites are courtesy of AK Coburg CD DR 0010. Of this work, Wilhelm Altmann, the famous chamber music critic, has written:
"If not a masterpiece of the highest order from start to finish, Krug's Sextet nonetheless comes away with high honors. He uses his themes skillfully and his sonorities are quite successful. The first movement, Allegro, begins with a short but powerful introduction which gives the impression of storms ahead. Instead, the main melody is quite genial and broad. Later, Krug cleverly weaves the introduction into the second theme and uses it as part of the coda. The second movement, Adagio tranquillo, is characterized by a calm, deeply felt melody, which is interrupted by a urgent and highly dramatic middle section. There is no scherzo, but the lively first theme to the finale, Allegro, seems to fill this gap. A quieter and more lyrical second theme provides excellent contrast."
This fine work, long out of print, will certainly be a welcome addition to the thin repertoire for string sextet. It is certainly strong enough for the concert hall and will undoubtedly appeal to amateurs.
Parts: $34.95