Presents
Franz Lachner
String Quartet No.6 in a minor, Op.173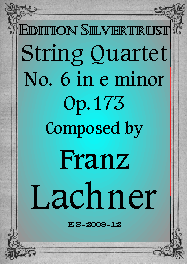 Franz Lachner's String Quartet No.6 was the last he was to write. It dates from 1848-9 when he was at the height of his powers and reputation. During this period, his compositions, such as this string quartet were much admired and often performed. Mendelssohn was fascinated by them and Schumann called Lachner the most talented composer in southern Germany. Writing twenty years later, Tchaikovsky noted that Lachner had to be placed near the pinnacle of fine composers.
Franz Lachner (1803-90) was born in Rain am Lech, a small Bavarian town and trained in Munich. He is the older brother of Ignaz, whose works we also publish. In 1823, by winning a musical competition, Lachner was awarded a position as an organist in a church in Vienna. In Vienna, he met Schubert. "We two, Schubert and I, spent most of our time together sketching new compositions. We were the closest of friends, mornings performing for each other and discussing in depth every imaginable topic with the greatest of candor." It should come as no surprise then that Schubert influenced Lachner's musical compositions more than anyone else.
He left Vienna in 1834 and returned to Munich where he remained the rest of his life, serving as Conductor of the Royal Bavarian Orchestra from 1834 to 1868. He also held the position of Professor of Composition at the Royal Conservatory. That Lachner's compositions began to disappear from the performance stage was due in large part to the fact that Lachner became an antagonist of Richard Wagner and his music. Wagner and his supporters, of course, retaliated and when they eventually gained the ear of the King, they were, by 1870, able to control what was performed, at least in Bavaria.
String Quartet No.6 is clearly classical in form the thematic material and its treatment is firmly rooted in the Romantic era. In many ways it combines certain characteristics of Middle Beethoven with the lyricism of Schubert. The opening Allegro moderato is a good example of this synthesis. It begins with a beautiful broad melody full of promise. But is punctuated by dramatic Beethovenian bursts. The slow movement, Adagio non troppo, begins softly with a feeling of reverence. A fine delicacy pervades this charming music. A finely wrought Scherzo, Allegro vivace follows. It begins softly, with excitement always bubbling just beneath the surface. A lovely trio provides the perfect interlude. The exciting, almost operatic, finale, Allegretto, immediately captures the listener's attention. On several occasions, the music is brought to sudden halts with loud Beethovian chords of anguish, but the music always overcomes it. A charming intermezzo-like second theme serves as a perfect foil to relieve the tension.
Here is a fine, early-mid Romantic work which would please concert hall audience as well as amateur quarter groups. Long out of print, we are pleased to make it available once again.
Parts $24.95