Presents
Ignaz Lachner
String Quartet No.6 in a minor, Op.105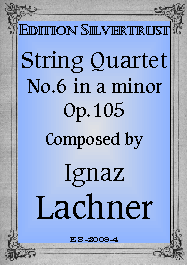 The style of Ignaz Lachner's String Quartet No.6, as well as all of his other chamber music, can best be summed up by what he said at age 87, the year before he died, " To the very end, I have been true to the classical composers of Vienna I admired so much." Lachner continually maintained that his goal was to write with the clarity and transparency typified by Mozart and Haydn, combined with the lilting beauty of Schubert. To hear his works, it is clear that in this he succeeded. His place in music is as a "Classicist-Romantic". His quartets achieved considerable popularity in their time by virtue of their fetching melodies, effective harmonies and the ease with which they could be performed.
Ignaz Lachner (1807-1895) was the second of the three famous Lachner brothers. Ignaz was taught (as were the others) organ, piano and violin. Upon the latter instrument, he was somewhat of a prodigy. He eventually joined his older brother Franz in Vienna where he became a close friend of Schubert's and fell under the influence of Haydn, Mozart and Beethoven. Though primarily known as a conductor, Lachner composed a considerable amount of music, much of it chamber music, including seven string quartets.
The opening Allegro assai begins with considerable force, while the second theme is a very beautiful lied or song reminiscent of Schubert. The Andante which follows begins unpretentiously and with simple charm or a clear day in the meadow. Only in the middle section do a few clouds, but not a storm, gather. The wonderful third movement, Scherzo, begins by recalling the thrusting scherzo to Schubert's last quartet while the trio section has a long bel canto vocal melody of the sort Verdi used in his own quartet. The finale, Allegro assai, is a rollicking and exciting rondo.
Long out of print, we are pleased to make it available once again. It is a viable alternative on a concert program in lieu of Mozart or Haydn and, it will surely give great pleasure to amateur quartet groups.
Parts $24.95