Presents
Vitĕzslav Novák
Piano Trio No.1 in g minor, Op.1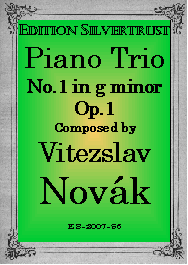 Vitĕzslav Novák (1870-1949) was a leading proponent of the Czech nationalism in music in the generation after Dvorak and Smetana. However it seemed unlikely that he would become a musician having begun by hating music as a result of being brutally forced to study the violin and the piano as a young child. But a fascination for composition, which he discovered in his teens, led to his decision to enter the Prague Conservatory, where he studied with Dvorak among others. Dvorak's example of using Czech folk melody in his music to foster the nationalist cause at a time when the Czech and Slovak peoples were seeking statehood from Austria encouraged the young composer to follow this path. After graduating from the Conservatory in 1896, he traveled to eastern Moravia and Slovakia where the local folk melodies he found served as a source of inspiration for him.
Although the First Piano Trio, which dates from 1892, during which time Novak was still a student at the conservatory, it is clearly not a student work, nor is it his real opus 1. Novak had been composing for many years. It was this fine, prize-winning work, which he chose to put his first opus number to. It does pre-date his interest in Slavonic folk melody and the writing is in the traditional Central European romantic tradition. The first movement, Allegro moderato, begins in a dark and brooding mood. There is a sense of yearning as well as impending storm clouds. But the second theme, given out by the cello expresses hope. The sunny second movement, Allegro giusto, is a relaxed scherzo. The Trio's center of gravity is clearly its slow movement, Andante sostenuto e mesto, which begins in a quiet and reflective mood. Although it is marked mesto, it is not particularly sad. The highly romantic middle section, (where our sound-bite begins), with its beautiful melodic writing rises to a brief dramatic climax before the music once again becomes more reflective. The finale, Allegro non troppo, begins with powerful and triumphant introduction brought forth by the piano. The second theme, is softer and more lyrical.
Although this is an early work, it is also a very fine one. Suitable for both professionals and amateurs, Novak's First Piano Trio has been unavailable for the better part of a century. We are pleased to make it available once again.
Parts $29.95