Presents
George Onslow
Piano Trio No.7 in d minor, Op.20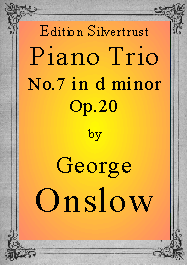 Although he was known mostly for his string quintets and quartets, George Onslow (1784-1853) did compose ten piano trios. Piano Trio No.7 in d minor was among the more popular and it entered the standard repertoire and remained popular throughout the 19th century.
George Onslow (1784-1853) was held to be in the front rank of composers by such experts as Mendelssohn and Schumann, who freely compared his quartets to those of Mozart and Beethoven and found them not to be wanting. Perhaps no composer more than George Onslow illustrates the fickleness of fame. Onslow was born and lived his entire life in France, the son of an English father and French mother. His string quartets and 34 string quintets were a constant feature of concert programs throughout the 19th century, particularly in Germany, Austria and England where he was regularly placed in the front rank of composers. His work was admired by both Beethoven and Schubert, the latter modeling his own 2 cello quintet (D.956) on those of Onslow and not, as is so often claimed, on those of Boccherini. However, after the First World War, his music, along with that of so many other fine composers, fell into oblivion and up until 1984, the bicentennial of his birth, he remained virtually unknown. Since then, his music, to the delight of players and listeners alike, is slowly being rediscovered, played and recorded. Onslow's writing was unique in that he was successfully able to merge the drama of the opera into the chamber music idiom perfected by the Vienna masters.
Piano Trio No.7 was written in 1822 at time when Onslow's mature style was emerging. The opening Allegro bursts forth in dramatic fashion. It is only after several measures that the lyrical main theme is given out by the strings. The second theme is gentler but leads to an exciting third theme which races along with much rhythmic excitement. The second movement, is a Theme and set of five very fine variations, each with a very different mood. (Our sound-bite presents the theme and parts of two variations) The third movement, though marked Menuetto, is no minuet but a whirlwind scherzo, conjuring up images of elves, ghosts and goblins. The trio section, by contrast is lovely and gay. Onslow is on the very top of his game in the excellent finale, Allegretto. Here he seamlessly combines the lyrical with quicker and exciting episodes. The movement is overflowing with wonderful melodic ideas which are superbly handled. A great end to a great piano trio.
This edition is a reprint of the first one released in Germany. We have added rehearsal numbers and corrected several mistakes. An exciting work for the concert hall and fun for amateurs. As Onslow was proficient on all three instruments, it is not surprising that this trio is quite well-written for all of them.
Parts: $24.95