Presents
George Onslow
String Quartet No.7 in g minor, Op.9 No.1
"God Save the King"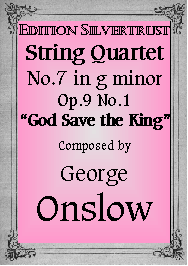 George Onslow's String Quartet No.7, Op.9 No.1 became one of the most famous and frequently performed quartets during the 19th century. Yet, until a few years ago, both he and this quartet were virtually unknown to most late 20th century music lovers. Perhaps no composer more than George Onslow (1784-1853) illustrates the fickleness of fame.
Onslow was born and lived his entire life in France, the son of an English father and French mother. His 36 string quartets and 34 string quintets were a constant feature of concert programs throughout the 19th century, particularly in Germany, Austria and England. where he was regularly placed in the front rank of composers by such experts as Mendelssohn and Schumann. His work was admired by both Beethoven and Schubert, the latter modeling his own 2 cello quintet (D.956) on those of Onslow and not, as is so often claimed, on those of Boccherini.
String Quartet No.7 was the first of a set of three, his Opus 9, which collectively were known as the Lord Onslow Quartets named after his famous grandfather with whom he was quite close and after whom he had been named. Onslow began work on it immediately upon learning the of the death of grandfather in 1814. The Quartet opens with an explosive but not a stormy Allegro. It is the second movement, Andante religioso, a set of four variations on the national anthem of his grandfather's country from which the Quartet takes its name. Onslow could quote the English national anthem without fear of censorship given the fact that in 1814, Napoleon had just been defeated by the Allies, most prominent of whom were the English. There can be little question that Onslow took the second movement of Haydn's Kaiserquartett (Emperor Qt), Op.76 No.3, a similar set of variations on the then Austrian national anthem (Gott erhalte den Kaiser) as his model. This movement is the equal, if not actually superior, to Haydn's right down to the emotionally somber and organ-like setting of the theme. Of particular note is the last variation begins with a fugue that has some very advanced tonalities for the year 1814. This fugue begins softly but gradually rises to a crescendo of emotion before quietly breaking apart into a bridge section which returns to a powerful restatement of the theme. (our sound-bite presents the theme and the final variation with the fugue ending before the restatement) The third movement is a brilliantly haunting syncopated Menuetto with contrasting trio. The finale, Agitato, begins with an off-beat drum-like snarl, complete with slinkily downward plunging chromatic passages and sudden and unanticipated accents.
This quartet should not be missed by either amateur or professional; it certainly belongs in the repertoire and in the concert hall, and stands in stark contrast to anything being composed at this time. Without doubt, a masterpiece of its kind.
Our modern edition is based on the 1817 edition by Steiner of Vienna, but has been entirely reset, with mistakes corrected and rehearsal numbers added.
Parts: $29.95