Presents
George Onslow
String Quartet No.9 in f minor, Op.9 No.3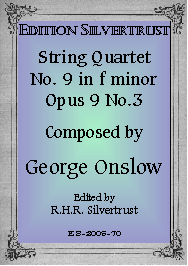 George Onslow (1784-1853) wrote some 36 string quartets and in his time they were held in the highest regard, freely compared to those of Mozart and Beethoven by such experts as Mendelssohn and Schumann.
Perhaps no composer more than George Onslow illustrates the fickleness of fame. Onslow was born and lived his entire life in France, the son of an English father and French mother. His string quartets and 34 string quintets were a constant feature of concert programs throughout the 19th century, particularly in Germany, Austria and England where he was regularly placed in the front rank of composers. His work was admired by both Beethoven and Schubert, the latter modeling his own 2 cello quintet (D.956) on those of Onslow and not, as is so often claimed, on those of Boccherini. Such was Onslow's reputation that he was elected to succeed Cherubini as Director of the prestigious Académie des Beaux-Arts, based on the excellence of his chamber music and this, in an "Opera Mad France", which had little regard for chamber music. However, after the First World War, his music, along with that of so many other fine composers, fell into oblivion and up until 1984, the bicentennial of his birth, he remained virtually unknown. Since then, his music, to the delight of players and listeners alike, is slowly being rediscovered, played and recorded. Onslow's writing was unique in that he was successfully able to merge the drama of the opera into the chamber music idiom perfected by the Vienna masters.
String Quartet No.9, Op.9 No.3 is the third of a set of three which were composed sometime between 1813 and 1815. The Op.9 quartets, often called the Lord Onslow Quartets since they were dedicated to his grandfather an important English political leader, though early works, show important advances which were the result of his study with Anton Reicha. The opening movement is a melodramatic Moderato which immediately reminds one of Mendelssohn (who was barely five at the time this music was composed). The second theme is more energetic and filled with appealing chromaticism. The second movement is a haunting Menuetto. The opening theme, introduced by the solo viola and quickly taken up by the others, is clearly a hunt motif. The sound of horns can be heard in the distance. Onslow's biographer writes that it was meant to recall the many fox hunts Onslow had enjoyed on his grandfather's estates in England during his youth. The charming elf-like and very effective trio section is played quicker than minuet itself. For its sort, you simply will not find anything better. This is followed by an Andante, a theme introduced by the cello and set of lovely variations. The finale, Allegro, is a veritable powerhouse, taking the listener's breath away from the very first measure and never letting go!
This is a masterwork and certainly far ahead of anything else being written at the time except for Beethoven. It unquestionably belongs on the concert stage and will also give amateurs great pleasure .
Our all new edition has been edited by R.H.R. Silvertrust* and has been entirely reset. Of particular importance is the fact that it does not use the "false treble clef" in the cello part which appears in all of the other previous editions and which has always been a problem for cellists. Instead, we have substituted the bass and tenor clefs which greatly improves the readability. Like all of our editions, this quartet is printed on top grade paper with an ornate cover with biographical information about the composer.
*R.H.R. Silvertrust is the author of The String Quartets of George Onslow and the Editor of The Chamber Music Journal.
Parts: $29.95

Score & Parts: $36.95