Presents
George Onslow
String Quartet No.10 in G Major, Op.10 No.1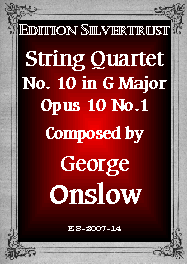 George Onslow (1784-1853) was held to be in the front rank of composers by such experts as Mendelssohn and Schumann, who freely compared his quartets to those of Mozart and Beethoven and found them not to be wanting.
Perhaps no composer more than George Onslow illustrates the fickleness of fame. Onslow was born and lived his entire life in France, the son of an English father and French mother. His string quartets and 34 string quintets were a constant feature of concert programs throughout the 19th century, particularly in Germany, Austria and England where he was regularly placed in the front rank of composers. His work was admired by both Beethoven and Schubert, the latter modeling his own 2 cello quintet (D.956) on those of Onslow and not, as is so often claimed, on those of Boccherini. Such was Onslow's reputation that he was elected to succeed Cherubini as Director of the prestigious Académie des Beaux-Arts, based on the excellence of his chamber music and this, in an "Opera Mad France", which had little regard for chamber music. However, after the First World War, his music, along with that of so many other fine composers, fell into oblivion and up until 1984, the bicentennial of his birth, he remained virtually unknown. Since then, his music, to the delight of players and listeners alike, is slowly being rediscovered, played and recorded. Onslow's writing was unique in that he was successfully able to merge the drama of the opera into the chamber music idiom perfected by the Vienna masters.
String Quartet No.10 was composed between 1813-1815, the first of a set of three. The opening Allegro spirituoso begins with an unusual syncopated 'herky-jerky' dialog between the first violin and cello. Onslow seems to have been influenced by Beethoven's Op.18 Quartets which, at the time, were just becoming available in France. The themes seem to rely less on melody than on rhythm for their force. The very fine Adagio which comes next is based on a simple three note motif. The naturalness and ease with which Onslow develops this simplest of themes into a set of elaborate variations is astonishing. (Our sound-bite is of two of the later variations. The three note motif can still be heard beneath the dramatic writing). The Menuetto Allegro Risoluto is not so much a dance as a military parade march. The violins pound out an unrelenting three-step against a heavy running eights in the lower voices. In the trio section, we hear "hunting horns" playing play a folk dance from the mountains fo the Auvergne, Onslow's native province. In the finale, Allegretto ma non troppo lento, snippets of the theme are tossed from voice in a moto-perpetuo atmosphere. This is a very ingenious composition.
Probably there was nothing at all of this nature and with this kind of part-writing that was being written at the time other than what Beethoven was writing. As such this is an unusal work and different from all of the other early Onslows. We can recommend it to amateurs and professionals alike.
This edition is a reprint of the first one released in Germany. While we have added rehearsal numbers and done our best to clean it up, players must remember that we were working with an edition that was almost 200 years old and, as to be expected, was not in perfect condition. While it is entirely serviceable, here and there, one will find the odd blemish on the page, which, however, in no way effects performance.
Parts: $22.95