Presents
George Onslow
String Quartet No.22 in C Major Op.47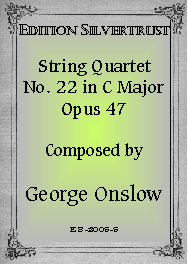 Perhaps no composer, more than George Onslow (1784-1853), illustrates the fickleness of fame. Onslow was born and lived his entire life in France, the son of an English father and French mother. His 36 string quartets and 34 string quintets were, during his own lifetime and up to the end of the 19th century, held in the highest regard, particularly in Germany, Austria and England where he was regularly placed in the front rank of composers. His work was admired by both Beethoven and Schubert, the latter modeling his own 2 cello quintet (D.956) on those of Onslow and not, as is so often claimed, on those of Boccherini. Schumann, perhaps the foremost music critic during the first part of the 19th century, regarded Onslow's chamber music on a par with that of Mozart. Haydn and Beethoven. Mendelssohn was also of this opinion. Publishers such as Breitkopf & Härtel and Kistner were among many which competed to bring out his works. Such was Onslow's reputation that he was elected to succeed Cherubini as Director of the prestigious Académie des Beaux-Arts, based on the excellence of his chamber music and this, in an "Opera Mad France", which had little regard for chamber music. However, after the First World War, his music, along with that of so many other fine composers, fell into oblivion and up until 1984, the bicentennial of his birth, he remained virtually unknown. Since then, his music, to the delight of players and listeners alike, is slowly being rediscovered, played and recorded. Onslow's writing was unique in that he was successfully able to merge the drama of the opera into the chamber music idiom perfected by the Vienna masters.
String Quartet No.22, Opus 47 was composed in 1834 and was an immediate success. It remained so throughout the 19 century, appearing on programs with the likes of Beethoven's Opp.59, 74 & 95 and Haydn's Op.76, and judging from contemporaneous critical reviews, it did not come out second best. No less a personage than the editor of the most prestigious musical journal in Germany, the Allgemeine Musikalische Zeitung, recognized Op.47's tremendous qualities. He found it modern, turbulent, full of pathos, variegate, exciting and mysterious. He went on to note that Onslow "did not owe the success of his music to Beethoven or Haydn, with whom he is often compared, but to himself. For he has developed the manner of his writing independently and thoroughly."
Op.47 is unusual in that it does not have a real tonal center, but alternates between c minor and C Major. The opening movement begins in c minor with an Introduzione-Lento. From the first utterance of the nightmarish double-stops, which are interspersed with ghost-like broken-chord pizzicato in the cello, the listener senses that this is no ordinary quartet. One hears all of the power of Beethoven's Opp.74 & 95 and then some. A tremendous sense of impending tragedy and doom hangs over these outbursts, which are clearly raised in defiance of some implacable fate. The main part of the movement, Allegro, is in C Major but is no less dramatic. The second movement, Menuetto Allegro, is really a scherzo. Played at breakneck speed, it is every bit as powerful and fine as the first movement. You are not going to find music more exciting than this. The trio, a marvelous viola solo, sciolto e leggiero, is every bit as good as the main section. In the lovely Andante, the cello's pizzicato gives out the first half of a classic folktune to which the first violin replies with the rest. The very fine second theme is full of yearning. The finale, Presto, is reminiscent in feel and construction to the exciting last movement of Mozart's K.387 (it does not sound like Mozart) Now at last clearly in major, the thematic material is full of joy, buoyancy and happiness and generates tremendous excitement from its 'hell for leather' pace. There is even an exciting fugual section to boot. This quartet is a masterpiece in every way. It should considered by any performing quartet and will also give amateurs great pleasure.
Parts: $24.95