Presents
George Onslow
String Quartet No.35 in D Major, Op.66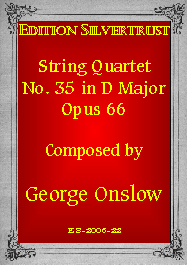 Perhaps no composer, more than George Onslow (1784-1853), illustrates the fickleness of fame. Onslow was born and lived his entire life in France, the son of an English father and French mother. His 36 string quartets and 34 string quintets were, during his own lifetime and up to the end of the 19th century, held in the highest regard, particularly in Germany, Austria and England where he was regularly placed in the front rank of composers. His work was admired by both Beethoven and Schubert, the latter modeling his own 2 cello quintet (D.956) on those of Onslow and not, as is so often claimed, on those of Boccherini. Schumann, perhaps the foremost music critic during the first part of the 19th century, regarded Onslow's chamber music on a par with that of Mozart. Haydn and Beethoven. Mendelssohn was also of this opinion. Publishers such as Breitkopf & Härtel and Kistner were among many which competed to bring out his works. Such was Onslow's reputation that he was elected to succeed Cherubini as Director of the prestigious Académie des Beaux-Arts, based on the excellence of his chamber music and this, in an "Opera Mad France", which had little regard for chamber music. However, after the First World War, his music, along with that of so many other fine composers, fell into oblivion and up until 1984, the bicentennial of his birth, he remained virtually unknown. Since then, his music, to the delight of players and listeners alike, is slowly being rediscovered, played and recorded. Onslow's writing was unique in that he was successfully able to merge the drama of the opera into the chamber music idiom perfected by the Vienna masters.
String Quartet No.35, Op.66 was completed in 1843 and achieved great popularity during Onslow's lifetime and throughout most of the 19th century. The opening movement begins with a slow, chromatically descending introduction, Adagio non troppo lento, which eventually leads to an Allegro moderato. The main theme, rhythmically-speaking, begins by fits and starts before it finally takes off. A whirlwind Scherzo follows, one of Onslow's very best. The wonderfully contrasting middle section is dramatic and operatic in nature. A doleful and moody Andante molto sostenuto stands in stark contrast to the high spirits of the preceding Scherzo. Onslow plumbs the depths of emotion here. The finale, Allegretto, grabs attention immediately with its chromatically, downward plunging opening phrase. The genial main theme moves at a brisk pace while rising to several dramatic heights along the way to a surprising coda. This is another excellent quartet from this fine composer
Our edition is a reprint (with some corrections) of a late 19th century Kistner edition in which the "false treble clef" has been eliminated in the cello part. Virtually, all of the previous editions use the "false treble clef", which has always been a problem for cellists. In this edition, tenor clef is liberally used and on the rare occasions where treble clef appears, it is used in the normal fashion. This greatly improves the readability.
Parts: $22.95