Presents
George Onslow
String Quintet No.33 in c minor, Op.80
For 2 Violins, 2 Violas & Cello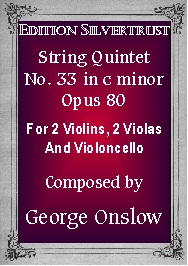 It is hard to believe that a composer whose chamber music Schumann and Mendelssohn ranked with that of Mozart, Beethoven and Haydn could fall into obscurity. Perhaps no composer, more than George Onslow (1784-1853), illustrates the fickleness of fame. Onslow was born and lived his entire life in France, the son of an English father and French mother. His 36 string quartets and 34 string quintets were, during his own lifetime and up to the end of the 19th century, held in the highest regard, particularly in Germany, Austria and England where he was regularly placed in the front rank of composers. His work was admired by both Beethoven and Schubert, the latter modeling his own 2 cello quintet (D.956) on those of Onslow and not, as is so often claimed, on those of Boccherini. Publishers such as Breitkopf & Härtel and Kistner were among many which competed to bring out his works. Such was Onslow's reputation that he was elected to succeed Cherubini as Director of the prestigious Académie des Beaux-Arts, based on the excellence of his chamber music and this, in an "Opera Mad France", which had little regard for chamber music. However, after the First World War, his music, along with that of so many other fine composers, fell into oblivion and up until 1984, the bicentennial of his birth, he remained virtually unknown. Since then, his music, to the delight of players and listeners alike, is slowly being rediscovered, played and recorded. Onslow's writing was unique in that he was successfully able to merge the drama of the opera into the chamber music idiom perfected by the Vienna masters.
Of his 34 quintets, only six--the first three and the last three--are for 2 violas rather than 2 cellos or cello and string bass. String Quintet No.33, Op.80 was completed in 1850 and was, upon its publication in 1852, an immediate success. When you hear it, it's not hard to understand why. The opening movement, Allegro Grandioso, begins with a dramatic chromatic theme of triplets. The second subject is a lovely lyrical melody. The second movement, Scherzo molto vivace, begins with a fast-moving, hard-driving main theme which leaves neither listener nor player a chance to catch their breaths. The military march of the trio section seamlessly changes the tempo from 3/4 to 2/4. The third movement, Andante sostenuto, is a quiet pastorale of great beauty. The incredible finale, again Molto vivace, is a true "moto perpetuo", brilliantly executed from start to finish. This is, without doubt, one of the most exciting string quintets in the literature.
This masterpiece has been out of print for more than half a century. Our edition is a reprint (with some corrections) of the 19th century Kistner edition in which the "false treble clef" has been eliminated in the cello part. Unfortunately, most other editions used the "false treble clef", which has always been a problem for cellists. In this edition, tenor clef is liberally used and the treble clef is not used at all. This greatly improves the readability.
Parts: $29.95