Presents
Joachim Raff
String Quartet No.7 in D Major, Op.192 No.2
"The Maid of the Mill"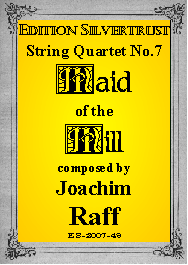 Raff's seventh string quartet, subtitled The Maid of the Mill after Schubert's famous song cycle Die Schöne Müllerin, was one of the most performed string quartets on concert programs between 1876 and 1914. And Raff himself, during this period, was widely regarded along with Wagner, Liszt, and Brahms as one of Germany's leading composers. All of the critical commentaries which appeared during those years spoke of him as an equal to such masters as Mendelssohn, Schumann, Brahms, and Tchaikovsky. Incredibly, by the 1920's his music had all but disappeared from the concert stage. It seems virtually unimaginable that a composer whose talent was recognized and whose music was admired by Mendelssohn and Liszt, could become a mere footnote, yet this is what became of Raff and his music for most of the 20th century. Only now is he being rediscovered to the delight of those fortunate enough to hear his music.
Joachim Raff (1822-1882) was born near Zurich and his family had hoped he would be come a school teacher, but music was his first love. Basically self-taught, Raff sent some of his early compositions to Mendelssohn who immediately recognized his talent and arranged for their publication. Unfortunately, Mendelssohn died before he could help Raff much more. The young composer then approached Liszt who also took an interest in him and took him on as his personal secretary and copyist. During the six years he spent with Liszt, Raff became a member of the so-called "New German School" led by Wagner and Liszt. Although he broke from them in 1856, he was still regarded as a Wagnerite by the supporters of Brahms and the other classicists. In short, Raff was in neither camp, but attacked by both. Isolated, he went his own way, paying little attention to the musical politics of late 19th century Germany.
His String Quartet No.7 dates from 1876, and was an immediate success from its premier. It is a programmatic work which tells the same story as Schubert's song cycle by the same name. A young man passes by a mill and sees a beautiful girl, the maid of the mill. For him, it is love at first sight. Finally he proposes and she accepts. In six movements, the opening Allegro presents the young fellow as he travels along. The second movement, subtitled the The Mill, also is an Allegro. At one time, this was one of the most famous movements in the entire string quartet literature and was frequently played by itself as an encore. The third movement, a lovely Andante quasi Adagietto, portrays the Maid of the Mill. Then comes Unrest, an Allegro, which portrays the young man struggling to get up the courage to propose. The fifth movement, Andantino quasi Allegretto, also was quite famous and used as an encore for more than half a century. Entitled The Proposal, it is a highly romantic lovers' duet between the cello and first violin. The finale, Wedding Eve Feast (Zum Polterabend) is the traditional celebration in German lands which takes place the night before the wedding. At the feast, old crockery was smashed to bring luck to the happy couple.
The famous chamber music critic Wilhelm Altmann, writing in his Handbook for String Quartet Players in 1936 called this quartet:
"A well-loved work from an accomplished master"
Amateurs will certainly get pleasure from this fine work which would also be well received by audiences in the concert hall.
Parts: $24.95