Presents
Carl Reinecke
Piano Quintet in A Major, Op.83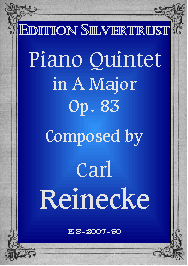 Carl Reinecke (1824-1910) was born near Hamburg in the town of Altona, then in the possession of Denmark. Most of his musical training was obtained from his father, who was a widely respected teacher and author. As a musician, he was truly a renaissance man, excelling in virtually every area. For three decades, he was considered one of the finest pianists performing before the public. Mendelssohn, Schumann and Liszt, were all very favorably impressed not only with his playing but also his compositions. He was appointed to the position of professor of piano and composition at the prestigious Leipzig Conservatory, where he became one of the most famous teachers in the world considered to have few if any equals. Among his many students were Grieg, Bruch, Janacek, Albeniz, Sinding, Svendsen, Reznicek, Delius, Arthur Sullivan, George Chadwick, Ethel Smyth, Felix Weingartner, Karl Muck and Hugo Riemann. He eventually rose to the position of Director of the Conservatory. If this were not enough, as conductor and director, he led turned the Leipzig Gewandhaus Orchestra into one of the finest orchestras in the world. As a composer, he produced widely respected and often performed works in every genre running the gamut from opera, to orchestral to chamber music. In his time, Reinecke and his music were unquestionably regarded as first rate.
The Piano Quintet dates from 1866. It is a fine work which for many years was placed in the front rank of such works. Even today, when given a hearing, listeners conclude that it can hold its own against the Schumann Piano Quintet which is perhaps performed more than even those of Brahms and Dvorak. The opening movement begins with a long mysterious Lento introduction which leads to a sprightly Allegro con brio full of forward drive. (Our sound-bite begins at the Allegro.) The second movement, Andante con variazione begins in a somber fashion with piano presenting a theme which almost sounds baroque. There follows four excellent variations. Next comes what Reinecke styles an Intermezzo. But it is really a scherzo in the form of rhythmic dance in the strings against the sparkling running 16ths in the piano. Here, Reinecke shows himself to be a master of tonal effects. The celebratory finale, Allegro con spirito, is graced with a buoyant toe-tapping main theme followed by a wonderful lyrical second theme.
It is hard to understand how such a good work as this could just disappear from the repertoire. Of its kind, this is a work of the first rank which ought to be brought back into the concert hall and certainly will find a warm place with those amateurs who put it on their stands. Long out of print, we are very pleased to be able to make this fine work available again.
Parts: $39.95