Presents
Ottorino Respighi
String Quartet in D Major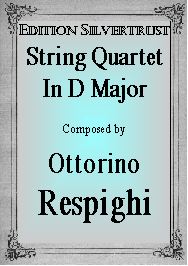 It will come as a surprise to many people that the famous orchestral composer Ottorino Respighi, known for such works as the Pines and the Fountains of Rome, also wrote chamber music. But Resghi was very interested in chamber music and wrote a considerable amount. His String Quartet in D Major, which dates from 1907 and is sometimes called No.1 was actually his sixth string quartet. In all he wrote eight, as well as a string quintet and a piano quintet.
Respighi (1879-1936) was born in Bologna and studied violin, piano and composition at the local conservatory. Becoming a first rate viola player, he was engaged to play a season for the Imperial Orchestra in St. Petersburg where he met and subsequently studied composition with Rimsky-Korsakov. Upon his return to Italy, he took up residence in Rome where he lived for the rest of his life.
"The Quartet in D Major which was composed in 1907 was first published in 1920. It is constructed in along a clear classical structure, with appealing sentiment and is in no way difficult to play. The opening Allegro begins with an up-lifting and highly romantic main theme which is followed by a playful syncopated second theme. The second movement, Tema con varizioni, begins with a melancholy theme and are followed by a series of very interesting variations. Although Respighi subtitled the next movement Intermezzo, it is really a nervous scherzo. The finale, Allegro, begins in a dramatic fashion with a highly effective rollicking Neapolitan melody. There is much here to admire of the fine rhythmic and harmonic writing."
This was the opinion of the esteemed chamber music scholar, Wilhelm Altmann, writing in his Handbook for String Quartet Players. This work should be of interest to amateurs and professionals alike.
Parts: $24.95