Presents
Joseph Rheinberger
Piano Quartet in E Flat Major, Op.38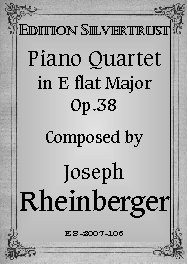 Joseph Gabriel Rheinberger (1839-1901) was a much respected composer who, during his lifetime, was generally ranked after Brahms and Wagner as the most important living German composer. Furthermore, he was also widely regarded, along with Carl Reinecke and Friedrich Kiel, as one of the best teachers of composition in the world. Many students who later became famous composers in their own right studied with him, including such men as Humperdinck, Wolf-Ferrari, George Chadwick and Robert Kahn.
Rheinberger was born in Vaduz, the capital of Liechtenstein. His talent for music was immediately discovered and was of such a substantial nature that with the help of a scholarship he was sent to the Royal Conservatory in Munich where he studied with Franz Lachner, one of Schubertís close friends and an important composer in his own right. Rheinberger, who remained in Munich for the rest of his life and eventually became conductor of the important Munich Choral Society and served as voice coach at the Royal Opera where he got to know Wagner. He also taught at the Royal Conservatory where he held the position of Professor of Composition for nearly 40 years.
Rheinberger's Piano Quartet, which was completed in 1870, is one of his earliest published chamber works and was certainly one of the most popular piano quartets from the time of its publication until the start of the First World War, after which, like many other fine compositions, it inexplicably disappeared from the concert stage. The big, marvelous opening Allegro non troppo begins with a brooding theme in the strings. Tension builds and it seems a storm is on the way, but instead a joyful melody, which makes you want to kick up your heels, breaks forth. The third theme is altogether different, gentler and more lyrical. The second movement, a beautiful Adagio, is at once both highly romantic and profound. Rheinberger calls the third movement a Menuetto, but this is a mid-romantic version, not the classical type. With its swinging rhythm and tuneful main theme, it makes an indelible impression. The opening theme of the Allegro finale is a care-free, almost capricious tune that is full of surprises. The contrasting second subject is darker and leads to a marvelous fugue by the composer who was universally acknowledged as the finest fugue writer after Bach.
Recognized as a masterpiece at the time it was published, here is a work that truly deserves to be brought back and heard on the concert stage. And amateurs will wish they had known about this piano quartet sooner.
Parts: $34.95