Presents
Alessandro Rolla
String Trio in B flat Major, Bl. 351
For Violin, Viola & Cello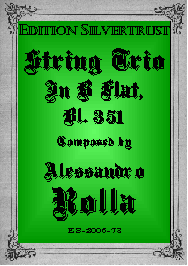 Alessandro Rolla (1757-1841) was born in Pavia, Italy. He studied the violin and viola became a virtuoso on both instruments, but it was his playing of the viola as a soloist in concert that was considered unique at the time. Rolla also became a renowned teacher and held the position of Professor of Violin and Viola at the Milan Conservatory. In 1797, the 13 year old Paganini was brought to him to evaluate. It is widely believed that Rolla gave the young virtuoso further lessons. But whether he did or not, it is beyond question that Rolla's compositional style had a huge influence on Paganini. People hearing Rolla's music often remark, "but it sounds just like Paganini." It would be more accurate to state that Paganini's music sounds just like Rolla's. And again, long before Paganini became famous for his effect on audiences, Rolla had created a sensation. In fact, the police of Milan, at one point, asked him not to perform in public since it caused ladies to faint. In 1802, he became director of the orchestra of La Scala in Milan. Then, as today, this was considered the most important and prestigious musical position in Italy.
He was a prolific composer writing more than 500 works in nearly every genre from Opera to orchestral works to chamber music. Rolla's instrumental style typifies what became known as the Italian vocal style, taking its name from the fact that it emulated writing for the opera. It had a tremendous impact on musicians both inside and outside of Italy.
Writing about Rolla's chamber music, Andreas Moser, the well-known chamber music critic and colleague of Joseph Joachim, notes:
If only concert-giving organizations had the courage to include in their programs one of Rolla's trios, quartets or the string quintet, the audience would listen astounded at the excellence of the music.
The String Trio in B Flat is one of a set of six composed in 1800 and published by Artaria in Vienna in 1801 as his Op. No.1--i.e. his first work, something it certainly was not. According to the author of his thematic catalogue, it is his 351st work! The trio is in concertante style, meaning that it is written for each instrument to perform as a soloist while the others accompany. The opening Allegro assai is in formal 18th century introductory Italian style before the lovely opening theme is brought forth. A brighter second theme is just the sort of thing Paganini often used in his chamber music and concerti. The highly ornamented and finely wrought second movement, Largo ma non troppo, begins rather calmly with each instrument taking its turn. Slowly the intensity builds. Perhaps nowhere better than in the buoyant finale, Rondo, allegro, can we hear the debt Paganini owed to Rolla. Trio groups everywhere looking for a work in the late 18th or early 19th century Italian concertante style can do no better than a work like this.
Our all new and entirely reset edition is based on the original Artaria edition and has been edited by R.H.R. Silvertrust. Of particular importance is the fact that our edition does not use the "false treble clef" in the cello part which appeared in all of the other previous editions and which has always been a problem for cellists. Instead, we have substituted the bass and tenor clefs which greatly improves the readability. Like all of our editions, this trio is printed on top grade paper with an ornate cover with biographical information about the composer.
Parts: $19.95