Presents
Camille Saint-SaŽns
Piano Trio No.1 in F Major, Op.18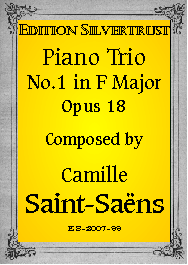 During the third quarter of the 19 century, when the French only seemed interested in opera, Camille Saint-SaŽns (1835-1921), almost single-handedly, attempted to make the case for chamber music, which so many of his countrymen continued to think of as something German. Although famous for his larger orchestral works and instrumental concertos, he devoted a great deal of time and effort to writing chamber music. Not only does he have two string quartets to his credit, but he also wrote three works for piano trio, a serenade for piano, organ, violin and viola ( or cello), a quintet for piano, two violins, viola and cello, a Caprice on Danish & Russian Aires for piano, flute, oboe and B flat clarinet and his Septet for piano, trumpet, two violins, viola, cello and bass.
Although the First Piano Trio is a relatively early work, by the time he came to write it in 1863, Saint-SaŽns already had composed a piano quintet, a piano trio suite and a serenade for violin, viola and organ. The well-respected critic and savant, Emile Baumann, writes of Piano Trio No.1 as follows:
"The First Piano Trio is one of the most inspired moments of his youth. The opening theme of the first movement, Allegro vivace, expresses the joy of adventure. Its alluring gaiety communicates itself to the cello and permeates passages that are heavy with foreboding as well as those that are buoyant. The following Andante is a model of plastic and expressive melody. The main theme unfolds like an ancient ballad while the conclusion is filled with an intimate tenderness. The sprightly third movement, Scherzo, is filled with humor and wonderful cross rhythms and pizzicato effects. Much of the same buoyant spirit of the first movement is also to be found in the boisterous finale, Allegro. "
It is hard to understand why we do not find this lovely trio in the concert hall. Certainly it should interest both professionals and amateurs alike.
Parts: $29.95