Presents
Camille Saint-SaŽns
String Quartet No.2 in G Major, Op.153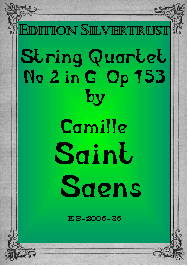 For many, it may come as a shock to learn that Camille Saint-SaŽns (1835-1921), the famous orchestral composer, devoted a great deal of time and effort to writing chamber music. Not only does he have two string quartets to his credit, but he also wrote three works for piano trio, a serenade for piano, organ, violin and viola ( or cello), a quintet for piano, two violins, viola and cello, a Caprice on Danish & Russian Aires for piano, flute, oboe and B flat clarinet and his Septet for piano, trumpet, two violins, viola, cello and bass. It might further surprise you to know that Saint-SaŽns didnít attempt his first string quartet until 1899, at the ripe old age of sixty four. His second effort in the medium didnít materialize until he was eighty four!
The Second Quartet was composed in 1919. Although written on a relatively small scale (it only has three movements), it is written with great mastery and exhibits exemplary clarity of thematic material. Clearly, Saint-SaŽns was neither trying to scale the heights nor plunge to the depths of emotion in this work. To the contrary, he seems intent on writing a sunny, playful work--extraordinary, really, for an octogenarian. The first movement, Allegro animato, begins in the form of an introductory fanfare. The main theme has the perfume of Mozart about it, of course, in an updated, neo-classical style. The second movement, Molto adagio, has traces of North African melody and of harmonic motion that he almost certainly came across during his many trips to Algeria and Tunisia. The last movement, Andantino--Allegretto molto, is quite light-hearted with several short, scurrying fugues that bear witness to the fact that Saint-SaŽns must have enjoyed writing this music.
This is a fine work, suitable for both professionals and amateurs.
Parts: $24.95

Parts & Score: $31.95