Presents
Othmar Schoeck
String Quartet No.1 in D Major, Op.23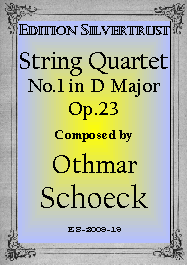 In his Handbook for String Quartet Players, Wilhelm Altmann described Othmar Schoeck's two String Quartets as noteworthy and valuable additions to the repertoire. In particular, he recommends String Quartet No.1 to amateur players as a good modern work.
Othmar Schoeck (1886-1957) was born in the Swiss town of Brunnen. He studied briefly at the Leipzig Conservatory with Max Reger but finished studies in Zurich at the Conservatory there. Known mainly for his considerable output of art songs and song cycles, he also wrote operas and instrumental compositions, including two string quartets.
After World War I, Schoeck found himself drawn toward the music of Les Six in Paris, as well as the serialist composers of the New Vienna School, in particular the music of Alban Berg.
None of this, however, can be heard in his String Quartet No.1 in D Major which dates from 1913. It is an interesting work in that it anticipates the musical style of neo-classicism which appeared a decade later. The lovely main theme to the opening Allegro has a Mozartean quality to it, albeit of the sort an early 20th century Mozart might have written. Sunny and with few clouds, the music drifts along effortlessly. The second movement, Allegretto, Schoeck calls an intermezzo but it is more or a scherzo although many different moods are expressed in a very short time. Mostly playful, and again, in an updated Mozartian way. The substantial finale, Allegro risoluto, begins with a lengthy, playful teasing introductory section. After nearly a minute, the lyrical main theme at last makes its appearance. It is a very fine example of Schoeck's brand of updated classicism. The music is highly interesting taking many unexpected rhythmic and tonal turns and in so doing is both highly original and quite interesting.
Published only once and out of print for long periods of time, here a quartet that deserves concert hall exposure. With no real technical problems, it is a modern work which amateurs really ought to investigate.
Parts: $24.95