Presents
Christian Sinding
Serenade No.1 for 2 Violins & Piano in G Major, Op.56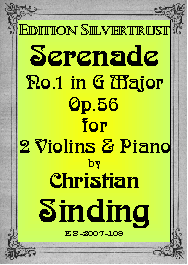 Sinding's two serenades for two violins and piano, while not the only works for this combination, are widely regarded as among the best of the romantic repertoire. His ability to draw tremendous tonal color from two soprano instruments is truly surprising.
Christian Sinding (1856-1941), along with Edvard Grieg came to symbolize Norwegian classical music between 1885 and 1940. Born is the small town of Kongsberg near Oslo, Sinding, after studying music in Oslo, attended the Leipzig Conservatory where he studied violin with Henry Schradieck and composition with Salomon Jadassohn and Carl Reinecke. Whereas Grieg's style of writing has been described as Schumann's technique combined with Norwegian folk melody, Sinding's is often and incorrectly characterized as combination of Wagner's technique with Norwegian folk melody. Although the influence of Norwegian folk melody can be fond in his music, Sinding did not use it, as did Grieg, so extensively. Rather, it was German romanticism, and in particular the music of Liszt and Wagner, which greatly influenced Sinding. But unlike Liszt and Wagner, Sinding relied on wit and developed a more cosmopolitan style. Writing in virtually all genres, his chamber music must be considered an important part of his output.
Serenade No.1 dates from 1902. In five movements, it begins with an upbeat, rather quick and energetic Tempo di marcia. The romantic second theme is softer and quite lyrical. The melancholy main theme to the second movement, Andante, is closely related second theme of the first movement and features a lovely duet between the two violins. A short, sprightly Allegretto, is placed the two slower movements. A second Andante, which serves as the fourth movement, highlights Sinding's melodic gift. The energy of the finale, an Allegro, bears a resemblance in feel with the opening movement.
One of the best works you can find for this combination, it is an excellent concert vehicle for two violinists but in no way beyond the range of good amateurs. Always difficult to obtain, we are pleased to bring it back and hope that both professionals and amateurs will make its acquaintance.
Parts: $29.95