Presents
Hans Sitt
Piano Trio No.1 in G Major, Op.63 No.1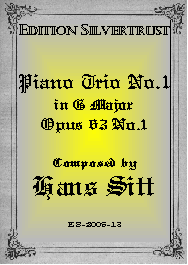 Many violinists have at least heard the name Hans Sitt (1850-1922), probably because, among other things, he was, during his lifetime, regarded as one of the foremost teachers of violin. Most of the orchestras and conservatories of Europe and North America then sported personnel who numbered among his students. He held the august position of Professor of Violin at the Leipzig Conservatory from 1883 on, and authored several important studies for that instrument, some of which are still used. Born in Prague, Sitt's father was a prominent violin maker there. Hans' musical talent manifested itself early and from all accounts, he could easily have enjoyed the typical career of a "wunderkind" had his parents chosen to exploit him, but they wisely refused this course. Instead, he was allowed to have a normal life and received a regular education at a gymnasium (high school) before being sent to the Prague Conservatory where he studied violin and composition. Subsequently, he pursued a successful solo career for a short time before being appointed concertmaster of the Breslau Opera Orchestra at age 17, the first of many such appointments. In addition, he was a conductor of repute holding positions with orchestras in France, Austria and Germany.
Besides his pedagogical works, Sitt wrote several pieces for violin and orchestra, including six concertos and a number of sonatas for various instruments. Sadly, the only chamber music of his we have are two piano trios which were composed during the 1880's. It is sad because these trios are of a type one does not often encounter: Works which present no technical difficulty to either the professional or the good amateur, but at the same time they are so well written that they deserve to be heard in concert. Quite often, one comes across works which may be, from a technical standpoint, without challenge, but the thematic material itself, or the treatment of the material, is of such a quality that the music is scarcely of use beyond home music making. While Sitt's trios are not massive chamber works which attempt to "scale the heights" neither are they trivial. Sitt is a master of the genre. The writing for all three instruments leaves little to be desired, each is exploited to its best advantage. There is no doubt that we are listening to Central European romantic music written between 1860—1890, but the melodic ideas are fresh and worthwhile.
Piano Trio No.1 in G Major, Op.63 No.1 is the lighter of the two. The genial and beautiful opening theme to the first movement, Allegro moderato, is perhaps just a little reminiscent of Schumann. The second theme is more exciting. Sitt dispenses with a slow movement and an Allegretto in e minor comes next. The mood is a mixture of minuet and scherzo. The trio provides an excellent contrast not only tonally (it is in E Major), but also in mood. It is a pastorale. The bright finale, Allegro non troppo, begins with a buoyant Schumannesque main theme followed by a more lyrical second theme. Sitt finishes with a short but excellent coda. Here then is a work which makes no great pretensions, yet is perfect in its way. It could be used in concert where a shorter work is needed between two more substantial trios.
Parts: $24.95