Presents
Dame Ethel Smyth
String Quintet in E Major, Op.1
For 2 Violins, Violas & 2 Cellos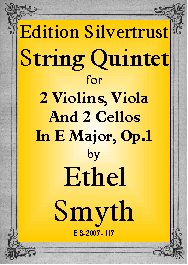 The first work that Ethel Smyth (1858-1944) allowed to be published was her String Quintet in E Major. Though designated as opus 1, it was hardly her first composition.
This Quintet, published in 1884, is concise in form, has convincing, tuneful melodies, and reveals a composer who not only is talented but also understands how to write for string instruments. This a work deserving considerable respect. In five movements, the opening Allegro con brio, features two fresh and appealing themes. The development is well done and interesting. This is followed by a charming Intermezzo, Andantino poco allegretto, where in the composer makes particularly telling use of pizzicato. A magnificent Scherzo, full of humor and with a lyrical trio section, comes next. The fourth movement, Adagio con moto, is full of religious piety whilst the finale, Allegro molto, which begins with a pretty fugue, has for its main theme a sweet and deeply felt melody. This quintet clearly showcases the tremendous talent this composer has.
This was the famous chamber music critic Wilhelm Altmann's opinion of this fine work and we concur. Ethel Smyth overcame the constraints of her middle-class English background by open rebellion. Taught piano and theory as ladylike accomplishments, she became so concentrated in her studies that her family deemed them unsuitably intense, and stopped her lessons. The teenaged Ethel went on a protracted and progressively more severe strike, finally confining herself to her room and refusing to attend meals, church, or social functions unless her father would send her to Leipzig to study composition. After two years the embattled Mr. Smyth gave in, and Ethel went to Leipzig where she studied with Heinrich von Herzogenberg and got to know Brahms, whom she admired greatly, Grieg among others. Back in England, she obtained recognition mostly for her public works such as her Mass in D and her opera The Wreckers. Eventually she was raised to the rank of Dame, not only for her musical work but also for her political activities; she was one of Britain's leading suffragettes during the first part of the 20th century.
In addition, we are pleased to offer this Quintet in a version for 2 Violins, Violas, Cello and Bass. Our bass part was made by Anthony Scelba, noted bass soloist, Professor of Music and Director of the Concert Artists Program of Kean University. Professor Scelba has created an idiomatic bass part that adds breadth and clarity to the timbral spectrum of the work, making it a welcome addition to the double bass chamber music repertoire.
Published in 1884 and out of print for well over a century, we are pleased to make this fine work available once again. It deserves to be heard in concert and will also be enjoyed by amateurs.
| | | |
| --- | --- | --- |
| (A) 2 Violins, Viola & 2 Cellos-Parts | $29.95 | |
| (B) 2 Violins, Viola, Cello & Bass-Parts | $29.95 | |
| (C) All Six Parts | $36.95 | |