The Viennese Dance Series for Chamber Ensembles
Johann Strauss Jr.
| | |
| --- | --- |
| | For Soundbite |
Overture to Die Fledermaus for String Quartet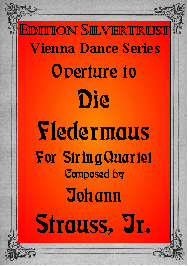 Die Fledermaus, composed in 1874, became one of the most popular operas of all time. Several of the pieces from the opera, such as songs, waltzes and polkas, have taken on lives of their own and are often performed by themselves and in a myriad of arrangements. The Overture is also among Strauss' most performed works and has been arranged literally hundreds of times for typical ensembles such as the string quartet or piano trio, to unusual arrangements for marimba and drums! One of the earliest and best arrangements for string quartet was made in the early 1880's by Johann Maierhoffer. Strauss is said to have heard it performed at one place or another and found it quite good. We have based our arrangement on it.
It is true that this is one piece which Strauss did intend for orchestra, but not the behemoth powerhouse symphony orchestras of today. Rather, for a much smaller pit orchestra, often called a salon orchestra by the Viennese. Such orchestras rarely consisted of more than 30 players and often as few as 8 to 10 players. This is why arrangements of this work for much smaller and more intimate groups have been so successful. Our sound-bite gives you a little less than half the work.
It has become rather a tradition in Vienna, and elsewhere, to attend a performance, if possible, of Die Fledermaus on New Year's Even, or at the very least to hear the overture in a cafe or coffee house played by a piano trio or string quartet. A great little work for any festive occasion.
Parts: $19.95