The Viennese Dance Series for Chamber Ensembles
Johann Strauss Jr.
| | |
| --- | --- |
| | For Soundbite |
Liebeslieder Waltzes, Op.114 for Piano Trio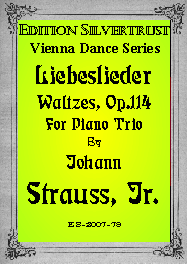 Johann Strauss Jr. (1825-1899) needs no introduction. The Viennese Waltz King will forever remain famous as long as music is played.
Was this music specifically written for piano trio? No. But it was written for a small ensemble of no more than 10 players who performed it at Strauss' first appearance in 1852 at an Imperial & Royal (K. u. K.) Court Ball in Vienna at an intimate garden setting. It was a tremendous success and helped to make the 26 year old Strauss' name as the Waltz King.
The Liebeslieder (Love Songs) Waltzes were, for a time also know as the Liebes-Stšndchen (Love Serenades) or Liebes-Gedichte (Love Poems) Their immediate success and popularity made his publishers demand that he immediately make versions for dozens of different ensembles, which of course he did. So, it could not have been many weeks before a version was already out for piano trio.
You may well have heard this work played by the Vienna Philharmonic or some other behemoth Symphony. But it was never intended to be played by such a group. Strauss' ensemble was small--a few players. Perhaps 2 violins, a viola and a cello or bass. Maybe a piano, too. They played in cafes and restaurants and at small parties. Later, when fame came, he created an orchestra. At first 10 to 12 players, then 16-20 and on special occasions perhaps 25 to 30. But one combination he certainly never envisioned was the modern day 100 member symphony orchestra--probably the least valid arrangement of all. The music of Strauss Junior and Senior, of Joseph Lanner and the other Viennese waltz masters, first and foremost, was intimate chamber music. This is the time-honored way in which most Viennese then and now have listened to their beloved waltzes.
It is in this spirit we offer our arrangement of the Liebeslieder Waltzes for Piano Trio. It is quite substantial and consists of an introduction, five waltzes and a coda which is nearly as long as all of the preceding waltzes. Lovely, and easy to play, musicians from Brahms to Fritz Kreisler and Gregor Piatagorsky to the Budapest String Quartet have all enjoyed playing Strauss' music in this format.
Parts: $13.95