Presents
Johan Svendsen
String Quartet in a minor, Op.1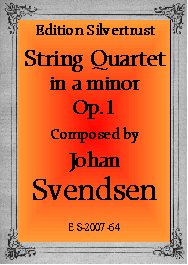 Johan Svendsen (1840-1911) gained a reputation as a rising star while he was still a student at the Leipzig Conservatory, where by general consensus he was regarded as one of the most talented students. Svendsen was born in Oslo and learned to play both the violin and clarinet from his father. By the time he finished school, he was working as an orchestral musician, and occasionally made short concert tours as a violinist. In Lubeck, on one of his tours, he came to the attention of a wealthy merchant who made it possible for him to study from 1863-67 at the Leipzig Conservatory. He began his studies with Mendelssohn's favorite violinist, Ferdinand David, but problems with his hand forced him to switch to composition, which he studied with Carl Reinecke. Afterwards, Svendsen worked primarily as a theater director and conductor. He achieved considerable fame as the latter and, during the last 20 years of the 19th century, was considered the leading Scandinavian conductor.
All of Svendsen's chamber music was written while he was at the Leipzig Conservatory, yet these works were not then, and should not now, be considered student works. His works won prizes and received public performances to acclaim. The String Quartet, which dates from 1865, created a sensation upon its premiere. The opening Allegro has for its main theme a driving, syncopated dotted subject which while not specifically from Norwegian folk melody, nonetheless has a Nordic sound to it. The dense texture at times approaches the orchestral. Both themes to the impressive second movement, Andantino, sound as if they are folk melodies. Svendsen's treatment of the material is masterly and gives no hint that it is the work of a student. The hornpipe of the excellent Allegro scherzando which follows surely is a traditional sailors' dance if not a Norse folk melody. The finale, Allegro assai con fuoco, is truly a surprise. It opens with a wild and fiery Hungarian dance. To this is added a slower more lyrical second melody which does sound Nordic. Svendsen is able to fuse the two appealing themes quite successfully.
Here is a fun quartet with good part-writing for all. Strong enough for the concert hall, it will find friends among amateurs wherever it is played.
Parts $24.95