Presents
Sergei Taneyev
String Quartet No.2 in C Major, Op.5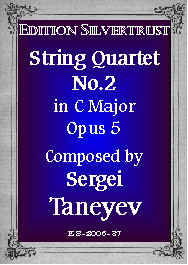 Sergei Taneyev (1856-1915) is one of the greatest Russian composers from the last half of the 19th and early 20th centuries and probably, from this group, the one whose music is the least known in the West. Taneyev came from an aristocratic family that patronized the arts and when Sergei's talent became apparent, his father sent him to the newly opened Moscow Conservatory at the age of 10. His main teachers there were Nicolai Rubinstein for piano and Tchaikovsky for composition. Although he became a brilliant pianist, Taneyev opted for a career as a composer and teacher and soon became a professor at the Conservatory. His fame both as a teacher and as a composer quickly spread. Among his many students were Gliere, Rachmaninov, Gretchaninov, Scriabin and Medtner. In Russian concert halls, one always finds a bust of Taneyev alongside those of Mozart, Beethoven, Mendelssohn, Schumann, Brahms and Tchaikovsky. Sadly, the fame of this outstanding composer has not spread beyond his homeland.
Influenced by Tchaikovsky, Taneyev preferred to write "pure" music rather than Russian-sounding or so-called "nationalistic" music based on Russian folk melodies. As such, he remained outside of the famous Nationalist School headed by Rimsky-Korsakov at the St. Petersburg Conservatory, and his music sounds markedly different from that of Rimsky and his famous students such as Borodin and Glazunov.
Of the Second String Quartet which dates from 1896, Wilhelm Altmann, the famous chamber music critic and author of the unequaled Handbook for String Quartet Players (Handbuch für Streichquartettspieler) writes:
It is one of the most magnificent and spirited quartets from a Russian composer and it is impossible to recommend it enough. The first movement, Allegro, is the most striking. The powerful main theme is beautiful but the lyrical second theme even more so. Both are clothed in gorgeous instrumental writing. As for the use of rhythm, Taneyev must be given the laurel wreath, especially in the spirited and haunting second movement, Scherzo. The lovely, slower trio section, with its solos for cello and viola, is particularly attractive. This is followed by a richly bejeweled Adagio espressivo which is highly atmospheric. Of particular beauty is the second theme. The bright, untroubled finale, Allegro vigorosamente, is filled with delicious humor. The broad and powerful coda is a wonderful fugue based on the main theme.
This is an absolutely monumental work. It deserves to be one of the pillars of the international quartet literature. Listen to the sound-bites and decide for yourself. A must have for professional groups, but it is not beyond the reach of good amateur players.
Parts: $24.95