Presents
Ferdinand Thieriot
Octet in B Flat Major, Op.62
For 2 Violins, Viola, Cello, Bass, Clarinet, Horn & Bassoon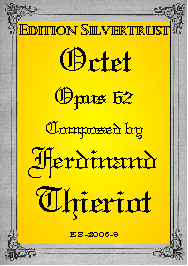 Ferdinand Thieriot (1838-1919), five years younger than Brahms, was not only born in Hamburg, but also studied with the same teacher, Eduard Marxein. The two knew each other from their Hamburg days and remained on friendly terms. After Hamburg, Thieriot finished his studies in Munich with Joseph Rheinberger and then moved to Vienna where his friend Brahms was instrumental in helping him obtain the position of Styrian Music Director in the provincial capital of Graz where he worked between 1870-85. Later, Thieriot held important positions in Leipzig and Hamburg where he remained from 1902 until his death. For the most part, Thieriot, like Brahms, remained true to the classical traditions which preceded him and took Beethoven, Schubert, Mendelssohn and Schumann as his models. Only toward the end of his life did he his work show some of the influence of the "New German Music" of Wagner and Liszt.
Thieriot wrote a great deal of chamber music, most of it of very high quality. Wilhelm Altmann, one of the most influential and perceptive chamber music critics of all time, writing of Thieriot's chamber music, states:
Thieriot's chamber music is without exception noble and pure. He writes with perfect command of form and expression.
Although not published until 1893, the Octet was composed some twenty years before. It dates from Thieriot's time in Graz and is in the grand tradition of the Schubert Octet and of Beethoven's Op.20 Septet. It would not be an exaggeration to say that these two works served as the "god parents" for Thieriot's Octet, which shares much in common with both, including the same instrumentation as the Schubert Octet. The opening movement, Poco adagio--Allegro non troppo with its short, slow introduction leading to a lyrical and lilting main theme is reminiscent of the Op.20 Beethoven Septet. The second movement, entitled Intermezzo, un poco vivace, begins in the spirit of a Schumann scherzo, but the trio section with its lovely writing for the horn and clarinet again brings back echoes of Op.20 Without question, the Octet's center of gravity is its middle movement, Adagio molto mesto. It begins with a long solo for the cello, followed then by another for the clarinet. The climax is reached after the gorgeous and moody solo for the horn (our sound-bite). Next comes a Schmannesque Scherzo, Allegro vivace. It is energetic, syncopated and full of forward motion. The finale, Allegro moderato, harks back to Schubert and is filled with lovely melodies and rich ideas.
This is truly a masterpiece from the mid-romantic period. Perfect in every way, the writing for all of the instruments shows the hand of a real master. The Octet belongs on the concert stage and ought to be given serious consideration by professional groups. Despite its superb quality, it does not require a virtuoso technique from any of the players and is sure to delight amateur groups as well. is for the same combination as the Schubert Octet and makes a perfect choice when an evening for this specific ensemble is planned. We also offer the Kaun Octet also for this exact combination.
Parts: $47.95