Presents
Robert Volkmann
String Quartet No.4 in e minor, Op.35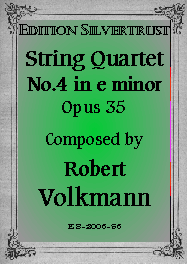 Friedrich Robert Volkmann (1815-1883) was almost an exact contemporary of Wagner, however, he certainly did not tread the same path as his fellow countryman. Volkmann forever kept Beethoven in front of him as his model although he was later to fall under the sway of Mendelssohn and then Schumann. In his day, Volkmann and his music were highly regarded. Hans von Bülow, the famous conductor, noted that when Liszt had a stranger visiting him, for whom he wished to provide a superlative enjoyment, he played a Volkmann piano trio with Joachim the violinist and the cellist Cossmann. High praise indeed for a composer whose works today are nearly all out of print. During his lifetime, Volkmann's music was regularly compared to and considered the equal of Schumann or Mendelssohn. His second piano trio was often mentioned in the same breath as Beethoven's Op.97, "The Archduke." Alas, Ars Longa but for Volkmann it was not only vita brevis but also fama brevis!
Though born and schooled in Germany, (he studied at Freiburg & Leipzig), Volkmann, after a brief stint in Prague, got a job in Pest in 1841 and made friends among the large German community there. Though he went to Vienna in 1854, he missed Pest and moved back in 1858 where he remained for the rest of his life.
String Quartet No.4 was composed in Vienna. The first subject of the opening Allegro comodo, is very beautiful and highly romantic. The Scherzo presto which follows is superb. Volkmann excelled at writing clever, exciting and memorable scherzi and this is certainly one of them. It is a headlong gallop, played in one, over almost before its begun. A muted Andantino in 5 sharps follows. It is short, uncomplicated and reflective in mood. The finale, Allegretto Vivace, is a very interesting movement, if for no other reason than it quotes both Beethoven and Smetana. A sort of 'laid-back' or relaxed moto perpetuo, it is nonetheless quite captivating with some rather dramatic moments. A clearly identifiable snippet to the first movement of Beethoven's Op.18 No.4 can be heard twice as can a very dramatic theme which Smetana borrowed more than twenty years later in his first Aus Mein Leben quartet.
Parts: $24.95